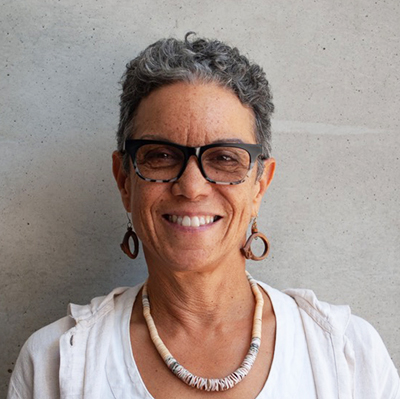 Michaele Pride
Professor
---
Education
MAUD (Urban Design), Harvard University
B. Arch, Arizona State University
Research
Public Interest Design
Community-Driven Design
Messy Urbanism
Affordable Housing
Race & Gender in Architecture and Urban Design
Michaele Pride, AIA, NOMA, is a Professor of Architecture at the University of New Mexico. As an architect and urban designer, she emphasizes principles of consensus, collaboration and public engagement in her teaching, research and professional consulting. Michaele's current work focuses on the intersection between design and public health—seeking ways to create healthy, sustainable and equitable communities.
At UNM, Michaele leads and supports projects through the school's Design and Planning Assistance Center (DPAC), including several for NM Mainstreet communities and The Stories of Route 66: the International District (a plan for a new community space in Albuquerque). She is a core member of the HIVE Collaborative, a cross-campus community initiative to address adverse determinants of health. Related to this effort, she leads the funded Central Corridor Neighborhood Study in Albuquerque. Michaele also heads the MS Architecture track in Public Health and the Built Environment.
After the 1992 civil unrest in Los Angeles, Michaele helped found the Design Professionals' Coalition, offering assistance to neglected communities of South LA. She left private practice in Los Angeles to become the inaugural Director of the Downtown Design Center at the University of Kentucky in 1996. Prior to UNM, she was at the University of Cincinnati, where she served as the Director of the School of Architecture and Interior Design from 2003-09.
Michaele served on the Cincinnati City Planning Commission and on the Board of Trustees for the Cincinnati Contemporary Arts Center. She recently served on the Design Review Committee for the Sawmill Community Land Trust and on the Healthy Places, Healthy People steering committee for the Con Alma Health Foundation. Michaele has served on several national and international design and awards juries, including design competitions for the Oklahoma City Memorial, the new US Embassy in London, and the proposed Bridge Park intended to create a health-promoting link between the Anacostia neighborhood and central Washington, DC.
DPAC Studios
ARCH 450 - Design Leadership
ARCH 691 - Sustainable Settlements
Bailey, K., Grossardt, T. and Pride-Wells, M.  "Community Design of a Light Rail Transit-Oriented District using CAVE (Casewise Visual Evaluation)." Socio Economic Planning Sciences 41(3): 235-254. 2017
"Self-Help, Politics and Social Policy: the Shape of Housing in Revolutionary Cuba", presented at the ACSA International Meeting in Havana, Cuba. 2001
Central Corridor Neighborhood Study (current)
Stories of Route 66: The International District, 2015
Design Intelligence 2010: named one of 25 "Most Admired Design Educators" in the US, 2010.
ACSA Collaborative Practice Award, with David Biagi, Bruce Swetnam, Marilys Nepomechie and Marta Canavez, for an Affordable housing initiative in Eastern Kentucky, 2004.
City Beautification Award for Somerville I & II Affordable Housing and Mixed-Use Development, Los Angeles, 1997.
Downtown Lexington Corporation, Urban Innovations Award for establishing the UK Downtown Design Center, 1996.
Design Excellence Award—DWP GOB Child Care Facility – LA Cultural Affairs Commission, 1992.