On The Brinck
On the Brinck Book Conversations, Jan. 31, 2022 featuring Arturo Escobar and Laura Harjo
On the Brinck Book Conversations, Feb. 7, 2022 featuring Charles Davis II and Catherine Seavitt-Nordenson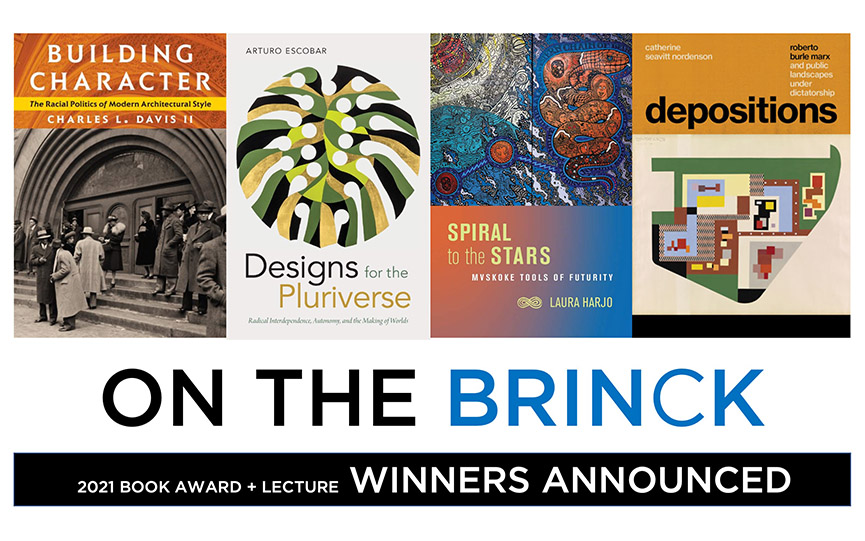 2021 ON THE BRINCK BOOK AWARD + LECTURE
WINNERS ANNOUNCED
Winners of the newly launched book and lecture award in honor of J.B. Jackson, inaugurated at the University of New Mexico School of Architecture + Planning (UNM SA+P) last year, have just been announced. The jury enthusiastically commends, in alphabetical order:
Davis, Charles L.Building Character: The Racial Politics of Modern Architectural Style. Culture, Politics, and the Built Environment. University of Pittsburgh Press, 2019
Escobar, Arturo. Designs for the Pluriverse: Radical Independence, Autonomy, and the Making of Worlds. New Ecologies for the Twenty-First Century. Duke University Press, 2018
Harjo, Laura. Spiral to the Stars: Mvskoke Tools of Futurity. University of Arizona Press, 2019
Seavitt Nordenson, Catherine. Depositions: Roberto Burle Marx and Public Landscape Under Dictatorship. University of Texas Press, 2018
The jury wanted to emphasize and set the tone for books that share fresh voices and integrated concepts across disciplines. They felt the winning volumes embody the spirit of J.B. Jackson and contributes to knowledge and perspectives across the design disciplines, including architecture, landscape architecture, planning, and urban design. They see these books as a collection that, when read together, can help students, faculty, and practitioners raise the bar of design discourse and open new discussions on ways of viewing and knowing.
Head juror, UNM School of Architecture + Planning (SA+P) Assistant Professor Kathleen Kambic, states: "We see these four volumes signaling an openness within design discourse. Each book deals with broad themes of race, environment, and climate through contestation and integration of existing ideas." This academic year, the authors will be paired into conversations at UNM SA+P, where they will present their work briefly, and then have the opportunity to discuss each other's work and take audience questions. Professor Kambic wishes to thank jurors Sunil Bald, Felipe Correa, Cathy Lang Ho, Nina-Marie Lister, Victor Rubin, Thaïsa Way, and Sibel Zandi-Sayek. "We congratulate the inaugural jury for helping us launch this award program, and we congratulate the winners for their inspiring contributions," says Kambic.
The following jury comments about the books encapsulate the award programs thematic connection to J.B. Jackson's historic contributions.
Building Character, by Charles L. Davis, "explores cultural biases in design by reinvestigating prominent voices in architecture and planning. This retelling of a familiar story in new ways is good for teaching as it brings up valuable and difficult questions—what assumptions do we have as we read this? What is American nationalism and naturalism? What is it that we want to bring attention to?"
Designs for the Pluriverse, by Arturo Escobar, "takes the most forward and radical stance in decentering the West while being general about design, instead of dealing with design thinking. It is a manifesto that will be inspiring for students who wish to avoid the pitfalls of 'expert' knowledge and find deeper and more meaningful forms of engagement. Although this book is part of a long trajectory of research, this particular volume interrogates modernity in a valuable way. It reveals the larger structures within which designers operate while revisiting complex systems adaptation theory."
Spiral to the Stars, by Laura Harjo, "is a remarkable and original volume. It validates indigeneity and contextualizes western thinking within it by bringing additional voices to the forefront. The ontological approaches Harjo proposes are valuable blueprints for community engagement. Harjo shares a concept of radical sovereignty that reveals the value of marginalized communities to those who may not have knowledge of them. It is a powerful and expansive view of the potentials of design. This book will be captivating for students, reinforcing the importance of new types of scholarship. This volume starts with community and grounds itself in the personal experience and accessible writing of Harjo."
Depositions, by Catherine Seavitt-Nordenson "is a creative, rich and multi-disciplinary book that integrates original documents, critical discussion and close observation of Brazilian landscape architect, Roberto Burle Marx's design work. This volume is seamless and well written, accessible and explorable. It reveals the contemporary relevance of landscape architecture and public space through a historical study. It discusses profound societal and cultural change, similar to the contemporary issues we face, like the pandemic and our political situation. Implications of this volume are present for moral and ethical contributions to design disciplines. The way the author contextualizes the politics and ethics as the context for Burle Marx's work is a clever way to deal with a messy situation; the author is not an apologist for the regime. The volume is decentered from the West, and it contextualizes design as heritage."
Nominations for the 2022 On the Brinck Book and Lecture Award may now be submitted by following the instructions below.
UNM SA+P's Dean Robert Alexander González, who founded the program as a Dean's Initiative during his first year at UNM, is looking forward to a new body of work for next year's program. "This award hopes to bring light to contemporary and emerging values in design presented in books that offer new perspectives that resonate with the seminal writings of J.B. Jackson, who so generously supported the UNM SA+P with an endowment. The three criteria we have committed to come directly from Jackson's enlightened approach to scholarship, emphasizing new and often overlooked areas of study, accessibility to the reader, and the integration of allied disciplines."
The criteria for book nominations are: 1) The book should break new ground, be a trailblazer, a new study or area that takes the reader past former work; 2) The book should contribute to the creative arts in an integrative way, across the three disciplines of architecture, landscape architecture and urban planning and design; and 3) The book should be approachable to students with writing that is relevant, and offers contemporary understanding (to the issues of our times, with voice as much as subject).
---
 2022 Call for Nominations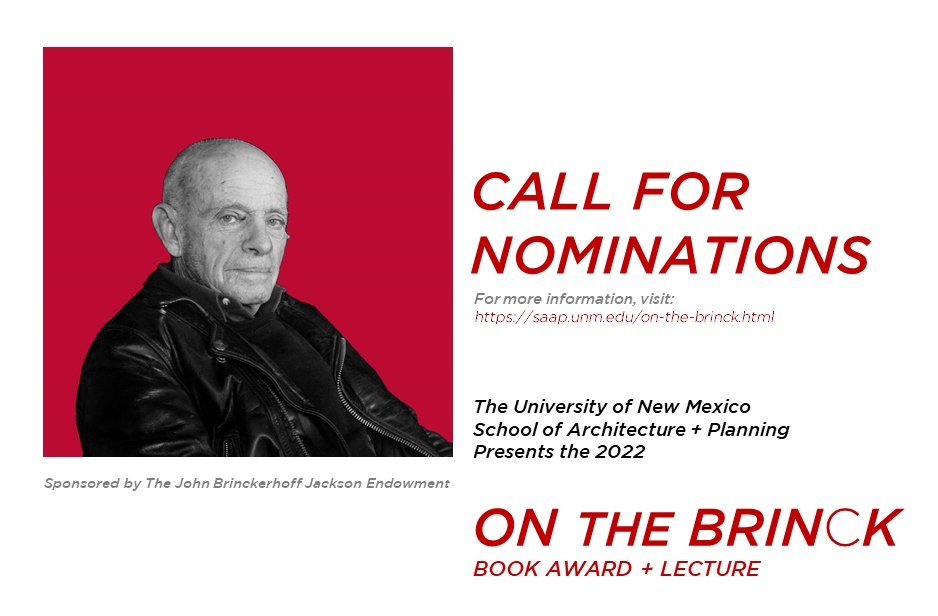 Nomination Process
Criteria
This award recognizes books that meet these criteria:
Books published in the last three years (2018-2020).
The book should break new ground, be a trailblazer, a new study or area that takes the reader past former work
The book should contribute to the creative arts in an integrative way, across the three disciplines of architecture, landscape architecture and urban planning and design;
The book should be approachable to students with writing that is relevant, and offers contemporaryunderstanding (to the issues of our times, with voice as much as subject).
Books must not be art/design monographs.
Books may have more than one author if it is a collaborative work or is an edited collection.
Previously nominated books may be re-considered if they fall within the three-year frame. 
Nominations – Round One  (Deadline: May 1, 2022)
Anyone can submit nominations. Please submit a letter of interest/nomination. Nominations should identify: the date, title, author(s), publisher contact information, and the written description of how the book meets the criteria listed above. Any evidence of the book's reach and impact (book reviews, supportive documentation) may also be submitted. All nominations will be evaluated by a jury of scholars and practitioners, chaired by a representative of the University of New Mexico School of Architecture & Planning (UNM SA+P). Eight (8) copies of the book will be requested from the publisher to be sent to members of the jury.
Jury Process – Round Two
A short-list of entries will be identified during Round One and further evaluated.
Award Recognition
Three winning books will be recognized each year. The awards will be announced on September 1, 2022. For each award, author(s) will be invited to lecture at the University of New Mexico School of Architecture & Planning during the Fall semester.
Please submit nominations to Kathleen Kambic, Director of the OTB, University of New Mexico, School of Architecture & Planning, MSC04 2530, 1 University of New Mexico, Albuquerque, NM, 87131-0001. Inquiries can be forwarded to kambic@unm.edu.
The Jury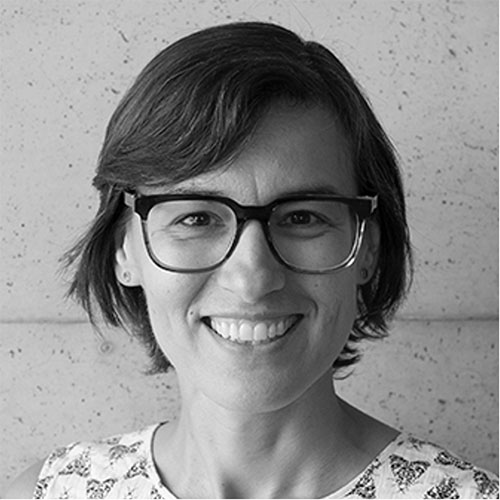 Head Juror
Kathleen Kambic is assistant professor in the Department of Landscape Architecture at the University of New Mexico, where she is also an affiliate with the Water Resources Program and the Department of Geography and Environmental Studies. Before teaching at UNM, she taught landscape architecture, architecture, and design history courses at the University of Colorado, where she is also an affiliate with the Center of the American West. She has worked for multiple nationally known firms, including EDAW and NBWLA. Her research interests include water infrastructure, marginalized urban space, political ecology, and landscape theory. Her current research explores feminist critique of landscape architecture as well as water infrastructure and governance in arid landscapes. Recently, Kambic has taught graduate seminars and studios on decentralized water infrastructure, site planning, drawing, and typology. She has also won multiple international design competitions on interdisciplinary faculty teams.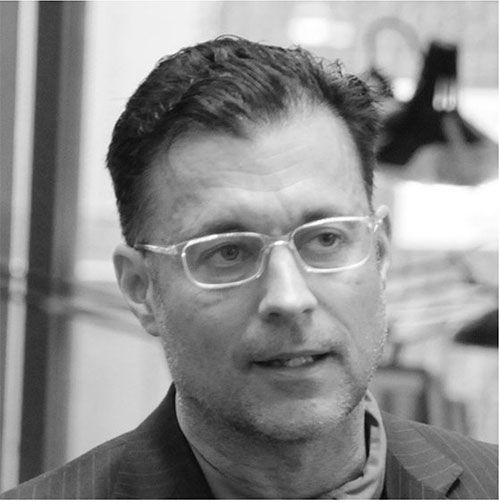 Sunil Bald is associate dean and professor adjunct at the Yale School of Architecture. He is a founding partner in the New York-based firm, Studio SUMO, which among many national awards, received the Annual Prize in Architecture from the American Academy of Arts and Letters. Studio SUMO's work, which ranges from installations to institutional buildings, has been exhibited in the National Building Museum, MoMA, the Venice Biennale, the Field Museum, the GA Gallery, and the Urban Center. Bald has research interests in modernism, popular culture, and nation-making in Brazil.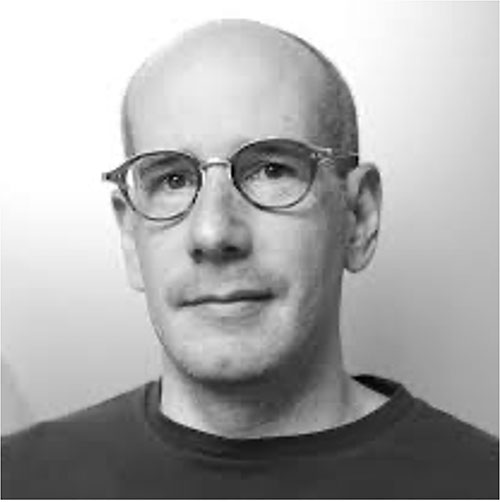 Felipe Correa is a professor and the chair of UVA School of Architecture. He is an internationally renowned architect, urbanist, and founder of his design practice Somatic Collaborative. He has served as director of the Master of Architecture in Urban Design program at Harvard University's Graduate School of Design. He is the author of São Paulo: A Graphic Biography (2018), Beyond the City: Resource Extraction in South America (2016), and Mexico City: Between Geometry and Geography (2015). He is the co-editor of Lateral Exchanges: Architecture, Urban Development, and Transnational Practices, a publication that explores the role of architecture and urbanism in the context of international development.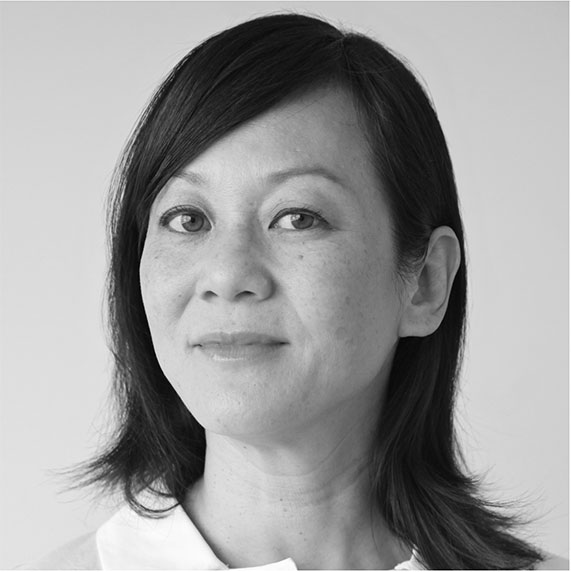 Cathy Lang Ho is an independent architecture writer, editor, and curator based in New York. She consults on diverse projects dealing with architecture, design, landscape, and urbanism. Recent projects include launching and organizing Harvard University GSD's Wheelwright Prize and Richard Rogers Fellowship, and creating public programs on New York's Governors Island. She is a contributing editor to  Architect magazine and founder and former editor-in-chief of  The Architect's Newspaper (2003–07). She was previously an editor at  Architecture magazine (1999-2001, editor-at-large 2001–05) and  Design Book Review (1992–99), an award-winning literary journal. Her writing has appeared in publications worldwide, including  Domus, Blueprint, and the  New York Times. She was the recipient of the Rome Prize (2008–09, Design) and is currently a member of the AAR Society of Fellows Council. In 2012, she was the commissioner and lead curator of the U.S. Pavilion at the Venice Architecture Biennale. She is a former board member of the Institute for Urban Design and has served on numerous awards juries and nominating committees.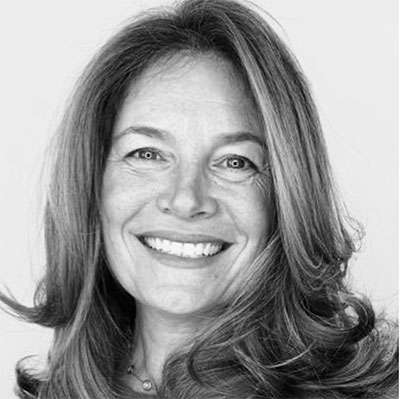 Nina-Marie Lister is graduate program director and associate professor in the School of Urban and Regional Planning at Ryerson University, where she founded and directs the Ecological Design Lab. A registered professional planner trained in ecology, environmental science, and landscape planning, she is the founding principal of PLANDFORM, a creative studio practice exploring the relationship between landscape, ecology, and urbanism. She is a member of the Ryerson Urban Water Centre where she contributes work on flood-friendly design and resilient water infrastructure. She is the co-editor of Projective Ecologies (2014) and The Ecosystem Approach: Complexity, Uncertainty, and Managing for Sustainability (2008).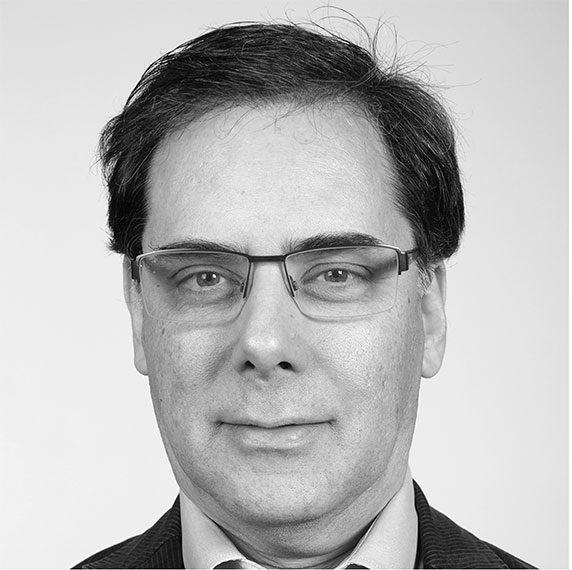 Victor Rubin, Policy Link Senior Fellow, is an urban planner with broad experience in community development, education, and social policy. Rubin previously directed the U.S. Department of Housing and Urban Development's Office of University Partnerships, and he served as a director of community partnerships and adjunct associate professor of city and regional planning at the University of California, Berkeley. He currently serves as a Board Member of the Association of Collegiate Schools of Architecture (ACSA).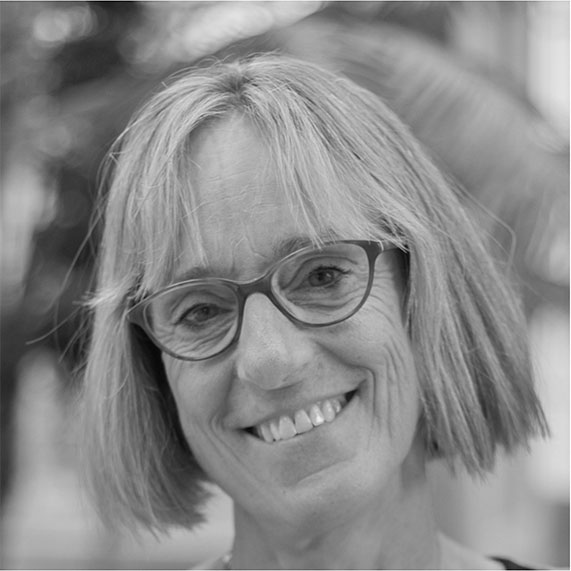 Thaisa Way is the program director in Garden and Landscape Studies at Dumbarton Oaks, Washington, D.C. She holds a professorship of landscape architecture at the University of Washington. An urban landscape historian teaching and researching history, theory, and design, she has published and lectured on feminist histories of landscape architecture and public space in cities. She is the author of Unbounded Practices: Women, Landscape Architecture, and Early Twentieth Century Design (2009), which won the 2012 J. B. Jackson Book Award, and From Modern Space to Urban Ecological Design: The Landscape Architecture of Richard Haag (2015). She has co-edited two volumes, Now Urbanism (2013) and River Cities, City Rivers (2018).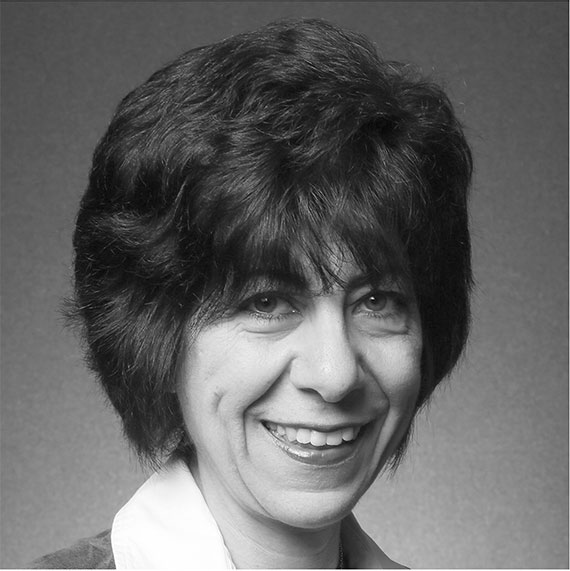 Sibel Zandi-Sayek is an associate professor and past chair of Art and Art History at the College of William & Mary. She holds professional degrees in architecture and city and regional planning, and a Ph.D. in architectural history. She served as founding co-director of the Asian and Middle East Studies (AMES) Program at the College of William & Mary. She is the author of Ottoman Izmir: The Rise of a Cosmopolitan Port, 1840-1880 (2012), which won the 2013 M. Fuat Köprülü Prize in Ottoman and Turkish Studies. She recently served as the book review editor of the International Journal of Islamic Architecture (2017-2020).