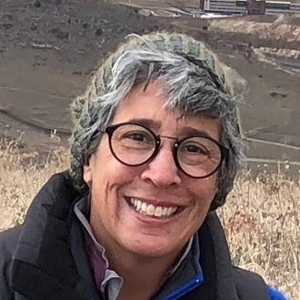 joni m. palmer
Lecturer II
/
---
Education
PhD, Geography, University of Colorado at Boulder
MLA, Harvard University Graduate School of Design
BS, Cornell University, City & Regional Planning and Design & Environmental Analysis
Research
Arts, Culture & Sustainable Communities
Reading & Writing Landscapes, which involves something I call fieldbooks, as well as geopoetics
Resilience Planning
Dr. palmer earned her bachelor's degree in science at Cornell University, with a double major in City & Regional Planning, and Design & Environmental Analysis.   She received her MLA at the Harvard University Graduate School of Design, and completed her doctoral studies in Human Geography at the University of Colorado-Boulder. 
For over 25 years her professional life has been a blend of practice and academia.  Her professional practice experience in planning and design (working in both the public and private sectors) includes working for municipal, state and federal government, and private firms in Boston, Seattle and San Francisco.  Currently she is a planning consultant whose work focuses on arts and cultural planning, community engagement, outdoor recreation, and wildlife conservation. 
joni is a member of teaching & research faculty at UNM in the Dept. of Community & Regional Planning, Dept. of Geography & Environmental Studies, and in the Arts Leadership and Business program. Dr. palmer teaches design and planning studios, site and environmental planning, design theory, research methods, visual thinking and representation(s), and social media, as well as courses in human geography, including cultural geography, urban geography, and world regional geography. She has taught at the Harvard University Graduate School of Design, University of Wisconsin at Madison, University of Massachusetts, the Pennsylvania State University, Iowa State University, and the Boulder and Denver campuses of the University of Colorado.
Her research is severalfold, and interdisciplinary: arts, culture & sustainable communities; reading & writing landscapes, which involves something she calls fieldbooks, as well as geopoetics and resilience planning. 

CRP 587 Spring 2021: MCRP/Graduate Capstone Studio
CRP 587 Spring 2019: MCRP/Graduate Capstone Studio: Los Lunas Cultural Corridor Plan (UNM)
CRP 587 Spring 2018: MCRP/Graduate Capstone Studio: Tucumcari Truck Terminal Brownfield
Redevelopment (UNM)
CRP 577: Practice of Policy Development (UNM)
CRP 537: Urban Systems (UNM)
Books Authored or Edited
2017 Public Art Encounters: Art, Space and Identity, co-edited with Dr. M. Martin Zebracki,
Routledge
Chapter: Introduction: "Public Art, People and Identities," with Dr. M. Martin Zebracki
Refereed Journal Articles
2018 "The Resonance of Public Art: Thoughts on the Notion of Co-producing Public Art," for
special issue in City & Society, Spring 2018
2015 "Rural Public Arts: Vernacular Materials, Landscape, and Time," Senses and Society,
Volume 10, Issue 2, PP 237-255, 2015.
2014 "Public art and accountability: Whose art for whose city?" (with M.M. Zebracki) Art
&The Public Sphere, Volume 2, Numbers 1-3, September 2014.
Book Chapters Authored
2020 MARCH 2020 | "Cloud Literacy." In Silver Linings. Clouds in Art and Sciencee, edited by
Dolly and Finn Arne Jørgensen Jørgensen. Trondheim, Norway: Museumsforlaget
2015 "Why Public Art? Urban Parks and Public Art in the Twenty-First Century," In The
everyday practice of public art, ed. Cameron Cartiere and Martin Zebracki. London UK:
Routledge.

Extramural Presentations at Conferences
2019 Discussant, Panel session: Mapping New Deal Washington DC, Chaired by Richard
Walker (UC-Berkeley), AAG, April 2019
Colloquium Speaker (+ Workshop), "Reading and Writing Landscapes," Professor Thomas
Oles, SLU, Uppsala, Sweden, January 2019
Conference Speaker/Panelist, "Cloud Literacy," In the Clouds | ArtScience Workshop,
University of Stavanger, Norway, 24-27 January 2019
Preparation," AAG Professional Development Workshops, AAG, San Francisco, CA, April
2016
Panelist, "Beyond the Ivory Tower A: Preparing Geographers for Business and Private Sector
Careers," AAG Professional Development Workshops, AAG, San Francisco, CA, April 2016
Discussant, "Cultural Values Mapping using Participatory GIS: Methods, Maps, and
Meanings," AAG, Los Angeles, CA, February 2013
2013 Panelist, "Light, landscape and place," AAG, Los Angeles, CA, February 2013
Jan. 2020
An Online Learning Academy to Improve Knowledge of New Mexico Water Resources" [efla]: An interdisciplinary team project based out of the  Southwest Environmental Finance Center, in collaboration with Film & Digital Arts, Geography & Environmental Studies, and Community & Regional Planning.
The Future of Public Art and Public Space in Albuquerque: Given the extraordinary times we are living in—amidst COVID-19, an election year, the Black Lives Matter movement, and advancing global climate change—the aim of this work is to provide timely and critical services that will help the Public Art Urban Enhancement Division move forward with its activities and projects in a responsive, creative, and successful manner.  The project is comprised of 5 (project) components:
Project Advisement: Working with PAUED staff and the Arts Board

Research/White Paper

PAUED Projects (site analysis, SWOT, RFQs/RFPs)

 Education and Outreach Pilot Project: social media and develop a podcast, "Listen Up For Public Art

Public Forum: A Panel Discussion: "Public Art—Ahead!"Stories of Resilience: How New Mexico Communities are Facing COVID-19"
The aim of this project is to collect stories from individuals around the State of New Mexico about how they are staying resilient in the face of the unprecedented challenges posed by COVID-19.
The Team: We are an interdisciplinary team made up of board members from the American Planning Association New Mexico Chapter (APA-NM) and student researchers from the University of New Mexico. We are also proud members of the New Mexico community who respect, admire, and love this state and the people, animals, and plants that call it home. Our Funding: "Stories of Resilience: How New Mexican Communities Are Facing COVID-19" is a special project funded by an American Planning Association (APA) Chapter Presidents' Council Grant. It is a collaboration between the APA New Mexico Chapter, the New Mexico Resiliency Alliance (NMRA), and students at the University of New Mexico (UNM).
Sept. 2018 APA-NM Student Project Award, Faculty Advisor (with Associate Professor Moises
Gonzalez), MCRP Capstone Studio Spring 2018 [Tucumcari, NM Truck Terminal Brownfield
Redevelopment]
Spring 2018 Visiting Scholar, University of Colorado-Colorado Springs, Heller Center for the Arts
& Humanities, March 2018
Fall 2017 University of New Mexico School of Architecture + Planning Faculty Research Support
Grant, manuscript development for a book project, "Discovering Place Through Fieldbooks"
7-year Summary of Professional Involvement
Extramural Presentations to Agencies, Firms, Universities, and Other Clients
Colloquium Speaker (+ Workshop), "Reading and Writing Landscapes," Professor Thomas Oles,
SLU, Uppsala, Sweden, January 2019
Invited Speaker [with Sherri Bruegemann, Director, Public Art Progam], CABQ, "Former
Industrial Sites as Cultural Destinations: from Western Massachusetts to the ABQ Rail
Yards," for the City of Albuquerque: Mayor's Office + Dept. of Cultural Affairs +
Metropolitan Redevelopment Agency, November 2018
Fall Colloquium Speaker, "Discovering Time [and Place] through Fieldbooks," Portland
State University, Department of Geography, October 2018
Visiting Scholar Public Talk, "Learning to love landscape(s)," Heller Center for the Arts
and Humanities, University of Colorado-Colorado Springs, March 2018
2017 Invited Speaker, "The Pedestrian Practice of Fieldbooks: The Fieldbook as a Critical
Mobile Methodology and Everyday Urban Praxis," University of Colorado-Denver,
College of Architecture + Planning, Fall Lecture Series, 23 October 2017
Invited | Workshop, "Discovering the Urban Landscape Through Fieldbooks," University
of Colorado-Denver, College of Architecture + Planning, Department of Landscape
Architecture, 1-day workshop on 21 October 2017
Colloquium Speaker, "Cultural Planning as Activism and Placemaking in Small Cities and
Rural Communities," Dept. of Geography & Environmental Studies, New Mexico State
University, 15 November 2017
Colloquium Speaker, "FieldBooks as Sites of Inquiry," Dept. of Geography &
Environmental Studies, University of Colorado—Colorado Springs, 17 March 2017
2016 Panelist, "The Pedestrian Practice of the Fieldbook," Walking in Practice |
4elements Living Arts Elemental Festival, Kagawong, Ontario, Canada, 1 October 2016
Keynote, "The Scholar's Path," Special Undergraduate Enrichments Program Scholars
Conference, University of Colorado at Boulder, 9 April 2016
Panelist, "The Academic Job Market for Geographers: Strategies for Improving Career
2015 Invited Speaker, "Research : Practice : Teaching … Exploring + Making
Connections," University of Colorado at Boulder, Special Undergraduate Enrichment
Programs | Boettcher and Norlin Scholars Program, November 2015
Invited Speaker, "Using the Teacher's Notebook…to its full potential," University of
Colorado at Boulder, Graduate Teacher Program, Fall 2015 Friday Forum: What Do
Faculty Really Do? Workshop series, October 2015
Panelist and Moderator, Expert Talk: Meaning & Place, BMoCA, 5 February 2015,
Boulder, CO
Editorships and Memberships on Editorial Boards
2018 Guest Editor with M. M. Zebracki for special issue titled: "Geographies of Urban
Public Art Co-Production: Where Are the Publics?" City & Society, Spring 2018
2014 Guest Editor with M. M. Zebracki for special issue titled: "Public art and
accountability: Whose art for whose city?" Art & the Public Sphere, Volume 2, Numbers
1-3, September 2014
Sept. 2019 APA-NM Student Project Award, Faculty Advisor (with Associate Professor Moises
Gonzalez), MCRP/Graduate Capstone Studio: Los Lunas Route 66 Museum & Visitors Center and
Cultural Corridor Plan (UNM)
July 2018 Tupelo 30-30, Guest Poet, July 2018
Finalist | National Parks Arts Foundation, Hawaii Volcanoes National Park Residency program for Summer 2018
Finalist | National Parks Arts Foundation, Haleakala National Park Artist in Residence program
for Summer 2018
Spring 2016 Finalist and Co-PI | "Walking Institute," with 4elements Living Arts, Ontario Arts
Council | Visual Arts Projects
Aug 2015 Finalist and Co-PI | "The Intersection of Arts, Culture and Public Health," with Dr. Jill
Litt (University of Colorado Denver/Boulder) and Matt Chasansky (Manager, City of Boulder
Office of Arts + Culture), ArtPlace America: Field Scan Research Grant