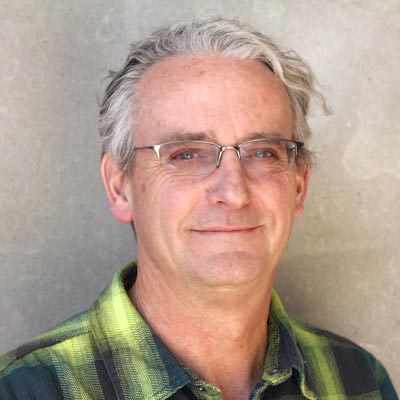 Geoffrey C. Adams
Professor
---
Education
M.Arch, University of New Mexico
B.A, Studio Art, University of California at Davis
Research
Design
Drawing and Painting
Building and Fabrication
Digital Technology
Biography
Geoffrey C. Adams is an associate professor in the Architecture Program at the University of New Mexico. He is currently teaching graduate design studio, materials and methods survey course and a seminar exploring digital design and making. Specific areas of academic interest and investigation involve the interconnection between design, drawing/painting, digital technology, building and fabrication.
Professor Adams has published work, both professional and academic, in national periodicals, proceedings and books. He is a recipient of the ACSA New Faculty Teaching Award. He has been a practicing architect for the past sixteen years and maintains an independent practice in Albuquerque, NM.
Students working in his design studios have won national and international design awards including 2008 ACSA/PCA Concrete Thinking for a Sustainable World Student Design Competition and 2009 AIAS/Kawneer Student Design Competition.
Undergraduate
ARCH 133 - Physics and Math for Designers
ARCH 401 - Architectural Design Studio V
Graduate
ARCH 531 - Graduate Construction I
ARCH 603 - Masters Architectural Design III
ARCH 604 - Masters Architectural Design IV
ARCH 634 - Systems Integration I
Albuquerque Balloon Museum Weather Lab; completed summer 2017, 2015-17
"Piedra Lumbre Visitors Center Master Plan," with Moises Gonzales, Assistant Professor CRP UNM, New Mexico Land Grant Council, 2015-16
Wm. Cofiel Cheese - artisan cheese making facility, Petaluma CA, 2015-16
Bear Canyon Bicycle/Pedestrian Bridge over I-40 - design consultant, 2007-13
Ridgecrest Addition, 2006-8
Professional member, ACSA
Awards:
Merit Award, Su Casa/Albuquerque AIA Design Award, 2005
ACSA/AIAS New Faculty Teaching Award, 2003