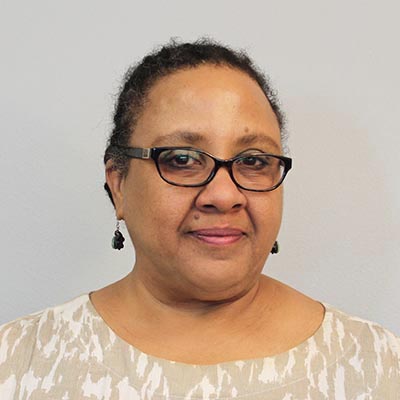 Claudia B. Isaac
Regents' + Distinguished Professor
---
Education
Ph.D., UCLA
MPA/URP, Princeton University
BA, Bryn Mawr College
Research
Community Engaged and Activist Scholarship
Food Systems Transformation
Affordable Housing
Participatory Practice
Community Resilience and Self-determination
Claudia B. Isaac, conducts community engaged scholarship & practice that focus on community driven practice, particularly concerning community education, local organization development and scholarly civic engagement. She conducts layperson training and participatory evaluation, and directs community based participatory research in the areas of community economic development and poverty alleviation, food systems planning, affordable housing, neighborhood planning and land use, metropolitan redevelopment, and community capacity building. She works with government, nonprofit and educational organizations to help disenfranchised people to produce community driven plans, evaluations, and policies.
Issac was named a Distinguished Professor in the summer of 2020. 
CRP 500 - Planning Theory and Practice
CRP 403/503 - Community Based Practice
CRP 435/535 - Community Economics
CRP 413/513 - Qualitative Research Methods
"Operationalizing Social Learning through Empowerment Evaluation", in H.Rangan et al (eds), Insurgencies and Revolutions: Reflections on John Friedmann's Contributions to Planning Theory and Practice, Routledge RTPI Library, 2017.
"Learning from Difference: The Potentially Transforming Experience of Community/University Collaboration", with Margaret Dewar, Journal of Planning Education and Research, Summer 1998.
"La Cosecha CSA 2017 Summative Evaluation Report", April 2018, with Jennie Greb, Charla Henley, and Susan Vigil, for the La Cosecha CSA.
"People of the Land: Evaluation of AFSC-NM Programming From 2009-2016", September, 2017, with Charla Henley, for the American Friends Service Committee Western Regional Office.
"La Cosecha CSA 2016 Annual Evaluation Report", February 2017, with Jennie Greb, Lucas Pedraza, and Forrest Repogle, for the La Cosecha CSA.
"La Cosecha CSA 2015 Annual Evaluation Report", with Jennie Greb and Lucas Pedraza, February, 2016, for the La Cosecha CSA, a project of the Agri-Cultura Network.
"Cluster Evaluation Report: Food Systems in New Mexico" with Daniel Michel and Lea Roco; December 2015. For the W.K. Kellogg Foundation, New Mexico. "Food Systems in New Mexico: Evaluation Findings", with Daniel Michel and Leah Roco. Infographic submitted to WKKF May 8, 2015, scheduled for public release, December 15, 2015.
"Cultivating Connections: Report on a Meeting Convened on February 4, 2015 by American Friends Service Committee, New Mexico Acequia Association, and the AgriCultura Network at the Hyatt Regency Hotel, Albuquerque.
"Enlace Comunitario Strengthening What Works: A Promotora Project Case Study", chapter in RWJF/ LTG Associates, Strengthening What Works: Preventing Domestic Violence in Immigrant Communities, with Sandra Ortsman, Ana Lopez Salazar, Virginia Perez Ortega, 2013
"Community Capitals and Asset Mapping", prepared for New Mexico Main Street Capacity building Initiative, May 2013. "Final Evaluation Report of Community-Based Food Security for Albuquerque Public Schools and the South Valley: A Project of AFSC-NM (10/1/09 to 9/30/12)". For American Friends Service Committee, New Mexico, December 2012.
"Sector Planning, Land Use and Health Promotion in the International District: A Workbook for Community Advocates", with Moises Gonzales & Megan McKenna. For the Albuquerque Southeast Heights Health Coalition, February 2010.
"Perceptions of Workforce Housing in Albuquerque: Implications for Housing Policy", with Micaela Cadena, Jerusha Daniels, Kate Hildebrand, Steve Lucero, Kileen Mitchell, and Nicole Sanchez-Howell for the City of Albuquerque, Workforce Housing Public Education Plan and Implementation, December 2007.
Regents' Professor, 2021
Distinguished Professor, 2020.
Sojourner Truth Fellow at the Taubman College of Architecture and Urban Planning, University of Michigan, from January -- June, 2019.
Featured in "Voices from Mainstreet New Mexico: Engage People New Mexico Mainstreet." https://www.nmmainstreet.org/ Video explains the Mainstreet program and its impact on rural and underserved communities in New Mexico.
UNM 2nd Annual Community Engaged Research Lecture Award, May, 2017
Fire Award (Fueling Increasingly Relevant Education) for teaching social justice and equity from the New Mexico Education Equity Alliance, October, 2012.
UNM 2007-2008 Faculty of Color Lifetime Achievement Award and 2006-2007 Faculty of Color Award for "Outstanding Faculty of Color".
YWCA Woman on the Move Award, 2000.