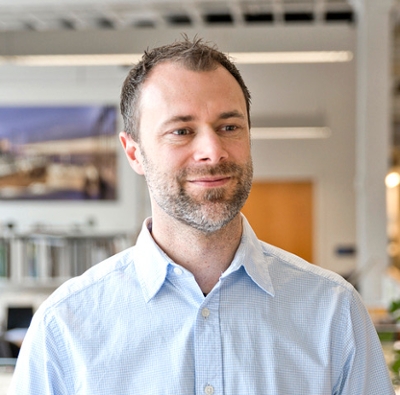 Anthony Fettes
Assistant Professor
---
Education
Univeristy of New Mexico, MLA
Research
Joining the Landscape Architecture Faculty Fall 2019, Anthony brings over fifteen years of global experience in habitat restoration, ecosystem monitoring, and landscape architecture. Involved with over 130 projects in 22 different countries while at the interdisciplinary firm Sasaki, his design approach is complimented by his previous experience with Natural Heritage New Mexico and field work in both the public and private sector.  A 2010 MLA graduate of the UNM SA+P, Anthony is driven by his passion for revealing the complex, interconnected cultural and ecological narratives behind every landscape. By drawing inspiration from each site's unique narrative and challenges, his teaching and practice works to advance the regenerative aspects of design, working to create inspiring and healthy landscapes that bring people together and connect people to place.
DPAC Studio (Starting Spring 2020)
Urban Ecology
Ecological Planning (RISD)
Ecology Systems (BAC)
Scholarship + Publications
Select Recent & Notable Presentations

Fettes, Anthony and Grove, Michael. Beyond the Flyway: Promoting integrated bird habitat through planning & landscape design.Joint presentation to Cornell Lab of Ornithology and CALS Department of Landscape Architecture. March 4, 2018. Ithaca, New York.
 
Panelist, How to build a city from scratch. MIT Water Summit 2018 – Thirsty Cities. Massachusetts Institute of Technology. Cambridge, MA. November 16, 2018.
 
Fettes, Anthony. Ecology of Urban Rivers.Learning Ecologies: Space at the Third Teacher (ARC 407/507) Seminar Terminal Prep, Inviting instructor: Jerolim Mladinov, University of Oregon College of Design - Department of Architecture. Web lecture, October 26, 2018.
 
Fettes, Anthony. Patterns & Process – an integrated approach to planning & design.
Presented to: Chengdu Institute of Planning & Design and Chengdu Tianfu New Area Hi-tech District Planning Bureau, Chengdu, Sichuan, China. September 20, 2018.
 
Fettes, Anthony; Fiegener, R.; Vitt, P.; & Zhang, T. Bee There or Bee Square: Promoting pollinator Habitat in Landscape Architecture (FRI-C02). 2017 ASLA Annual Meeting & Expo - October 20, 2017. Los Angeles, California.
Grove, Michael., Yu, Kongjian, & Fettes, Anthony.
An Evolving Landscape: Challenges and Opportunities for Landscape Architects in China
2013 ASLA Annual Meeting & Expo, Boston, Massachusetts. November 2013.
Publications
Fettes, Anthony. Promoting Pollinator Habitat as Landscape Architects. March 29, 2018. https://thefield.asla.org/2018/03/29/promoting-pollinator-habitat-as-landscape-architects/
(Recognized as one of the most read Field posts in 2018.)

Master Plan for Ananas New Community in the Philippines - a holistic food 
systems approach to habitat enhancement and social sustainability.
2016.
Landscape Architecture Frontiers, Ecological Security and Ecological Infrastructure
023 - Vol. 4 Issue 5, p 84-101.
Shanghai Zhangjiabang Urban Design and Landscape Master Plan.
2016.
Landscape Architecture Frontiers, Habitat and Biodiversity 021 - Vol. 4 Issue 3, p 70-85. 
Book Review - Urban Ecological Design: A Process for Regenerative Places.
Ecological Restoration. March 2014 32:106-107.
Projects + Engagement
UNM Student ASLA - Faculty Advisor

Coastal Solutions Fellows Program, Cornell Lab of Ornithology – Advisory Board

ASLA, Ecology & Restoration Professional Practice Network – Officer
Recognition + Other
Recent Projects at SasakiChengdu Panda Reserve
, Master Plan, Competition
Location: Chengdu, Sichuan Province, China; Role: Project Manager
Fast Company World Changing Ideas Awards, Honorable Mention—Spaces, Places, & Cities Category (2019)
MIPIM Asia Awards, Best Futura Maga Project (2019)
The PLAN Awards, Finalist, Education Category (2019)
Boston Society of Landscape Architects, Merit Award – Analysis & Planning (2019)
Hoosic River Revitalization – The North Branch
, Conceptual Master Plan
Location: North Adams, Massachusetts; Role: Project Manager
Boston Society of Landscape Architects, Honor Award – Analysis & Planning (2018)
Denver International Airport Strategic Development Plan
Denver, Colorado; Role: Lead Landscape Architect
Boston Society of Landscape Architects, Honor Award – Analysis & Planning (2018)
 Chicago Riverwalk
; Chicago, Illinois
Role: Ecological Consultant
American Society of Landscape Architects, General Design Award of Excellence (2018)
American Institute of Architects, Honor Award – Regional & Urban Design (2018)
World Landscape Architect, Award of Excellence for Built Design (2017)
Zhangjiabang Park
, Master Plan, Competition; Shanghai, China
Role: Landscape Architect & Ecological Consultant
International Federation of Landscape Architects, Africa, Asia Pacific, And Middle East Awards, Award of Excellence, Analysis & Planning Category (2018)