February
Recent News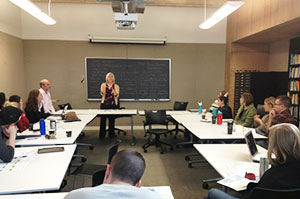 AIA Magazine Design and Health
February 28, 2013
The SA?P Design + Health initiative is one of three projects nation wide to receive a Decade of Design research grant from the AIA.
MCRP Student Elected to NM House of Representatives
February 21, 2013
Patri-cia Roy-bal Caballero isn?t the aver-age grad-u-ate stu-dent look-ing to defend her the-sis this spring. She?s also look-ing out for the con-stituents of Dis-trict 13 on Albuquerque?s west side in the New Mex-ico House of Representatives.
School of Medicine Memorial Design Competition
February 19, 2013
The UNM School of Medicine has announced that Christine M. Williams, in association with the Albuquerque design firm Garrett Smith Ltd., has won the limited design competition for an envisioned memorial to be constructed on the north campus of the university through the creativity of landscape architecture.
SA•P Partnership with the Navajo Nation
February 14, 2013
Navajo Nation President Ben Shelly signed a Memorandum of Agreement with the University of New Mexico to help bring Native American students to assist the tribe with designing and planning projects on the Navajo Nation.