Architect Magazine Feature - Health Conscious
February 28, 2013
The SA•P Design + Health initiative is one of three projects nation wide to receive a Decade of Design research grant from the AIA. The cross-disciplinary project brings together students and faculty from the School of Medicine, Nursing and Public Health in collaboration with Architecture, Landscape Architecture and Planning to explore and improve the connection between the built environment and public health in the Albuquerque community. Read the full AIA article here.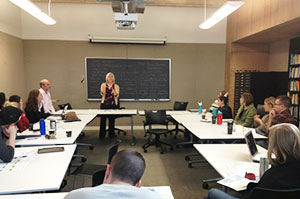 As part of the "ABC's Design for Community Health" (AAlbuquerque/Bernalillo County metro area) initiative, UNM presented a noontime film and faculty-facilitated discussion series last fall to build interest and awareness. In follow-up to the film series, a two-credit pilot seminar "Designing Healthy Communities" began on February 4th, 2013. Four inter-disciplinary faculty are teaching nearly 50 students, about 20 in each module, as part of the spring seminar open to students in architecture and landscape architecture, medicine, public health, pharmacy, and business. Among the modules are case studies, community-based experiential learning, and facilitated conversations with national experts like Dr. Jackson.

In July 2013 students will also be able take the enhanced two-week graduate course "Health Equity: Introduction to Public Health" at the School of Medicine. Launched in 2011, this community-engaged class is now open to students in Architecture and Landscape Architecture; Medicine, Public Health, and Pharmacy; as well as Business and Law.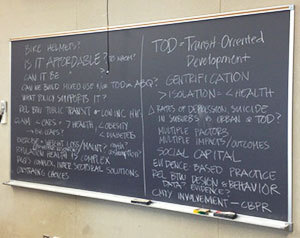 UNM's initiative is a key step toward breaking inter-disciplinary silos at a time when America's public health challenges require creative solutions. "We hope this initiative will be a transformational experience," explains principal investigator Michaele Pride, AIA, NOMA, professor and associate dean at the UNM School of Architecture and Planning. "Students will leave with a better understanding of the built environment's impact on health. They will also learn and practice the principles of community engagement within and beyond their discipline."
For more information on the project, contact Michaele Pride
mlpride@unm.edu