Roger Schluntz elected Chancellor of the College of Fellows of AIA
December 20, 2021
Roger Schluntz, FAIA, UNM SA+P Dean Emeritus and Professor Emeritus, was elected and inaugurated as the 60th Chancellor of the College of Fellows of the American Institute of Architects (AIA) this month. 
Schluntz's distinguished career in academia includes tenure as Director of the School of Architecture at ASU and Dean of the School of Architecture at the University of Miami. He served on the National Architectural Accreditation Board (NAAB) and was appointed to the AIA College of Fellows. From 1977-1980, he was Director of the Association of Collegiate Schools of Architecture (ACSA).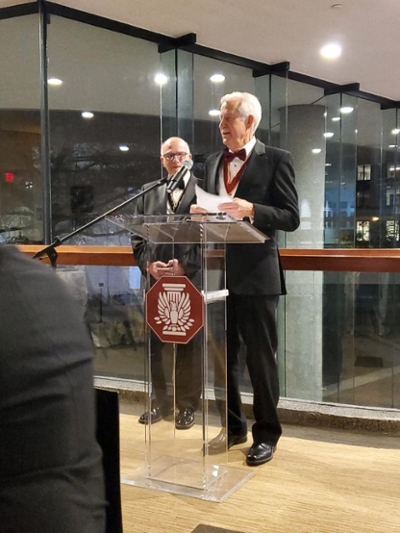 In his architectural practice, he focused on urban and building design quality, guidelines and review processes for the GSA, National Endowment for the Arts, and other civic, academic, and cultural organizations. Currently he serves on the International Competitions Commission of the International Union of Architect (UIA). Next semester, he teaches a course at UNM SA+P in criticism and journalism, entitled "Mastering the Language of Design," focusing on the intentions, methods and styles of critical discourse in the assessment of architecture, urban design, and landscape architecture. 
AIA, founded in 1857, works to create more valuable, healthy, secure and sustainable buildings, neighborhoods, and communities. AIA advocates for public policies that promote economic vitality and public wellbeing. 
You can read more about Roger Schluntz's Inauguration as Chancellor for the College of Fellows of The American Institute of Architects on the AIA website.