On view: Kirsten Angerbauer 'Between Sound and Silence'
October 8, 2021
SA+P Fab Lab Coordinator and Artist Kirsten Angerbauer reflects on the uncertainty experienced with COVID-19 utilizing ambient sound.
This is Angerbauer's first solo exhibition in New Mexico, combining sound frequencies and vibrations with everyday materials, they create a multi-sensory, immersive soundscape. The work includes glass etchings, video work, experiments, sketches, and large-scale installations that transform everyday materials through sonic energy. 

Created during the isolation of the pandemic, the exhibition is a reflection and meditation on the uncertainty and silence felt by many, combined with the constant hum of information, media, and data. These vibrations reflect the cacophony of the outside world as well as sonic landscapes that provide us with perpetual subconscious background noise. The works reflect our individual frequencies through Angerbauer's presentation of non-auditory sound elements, opening the door to unique experiences in the space between sound and silence. 'Between Sound and Silence' is on view through November 2021.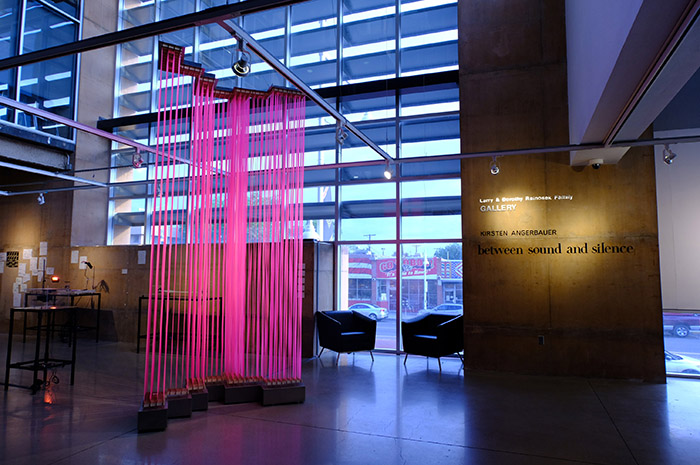 Kirsten Angerbauer(she/they) is a queer, interdisciplinary artist whose work spans public art, sculpture, performance, installation, sound art + research, and new media processes. Angerbauer is the Fabrication Lab Coordinator at the University of New Mexico School of Architecture and Planning and has exhibited work across the country including in Colombia, Missouri, across north Texas, and in New Mexico.
Angerbauer's work investigates individual experience, perception, sensory data, and process- based transformation of materials. Their practice lies at the intersection of digital and analog design, using these systems to transform and abstract form and space. Angerbauer's work introduces multisensory environments that offer moments of reflection and shared emotions within the human experience. 
Angerbauer holds a BFA from the University of North Texas (2018,) and is currently pursuing an MBA (exp. 2023) at the University of New Mexico.
For more information about Angerbauer's work: www.kirstenangerbauer.com