Managing climate change impacts in our communities
January 30, 2020 - Natalie Rogers
UNM joins regional coalition to help communities adapt to the warming climate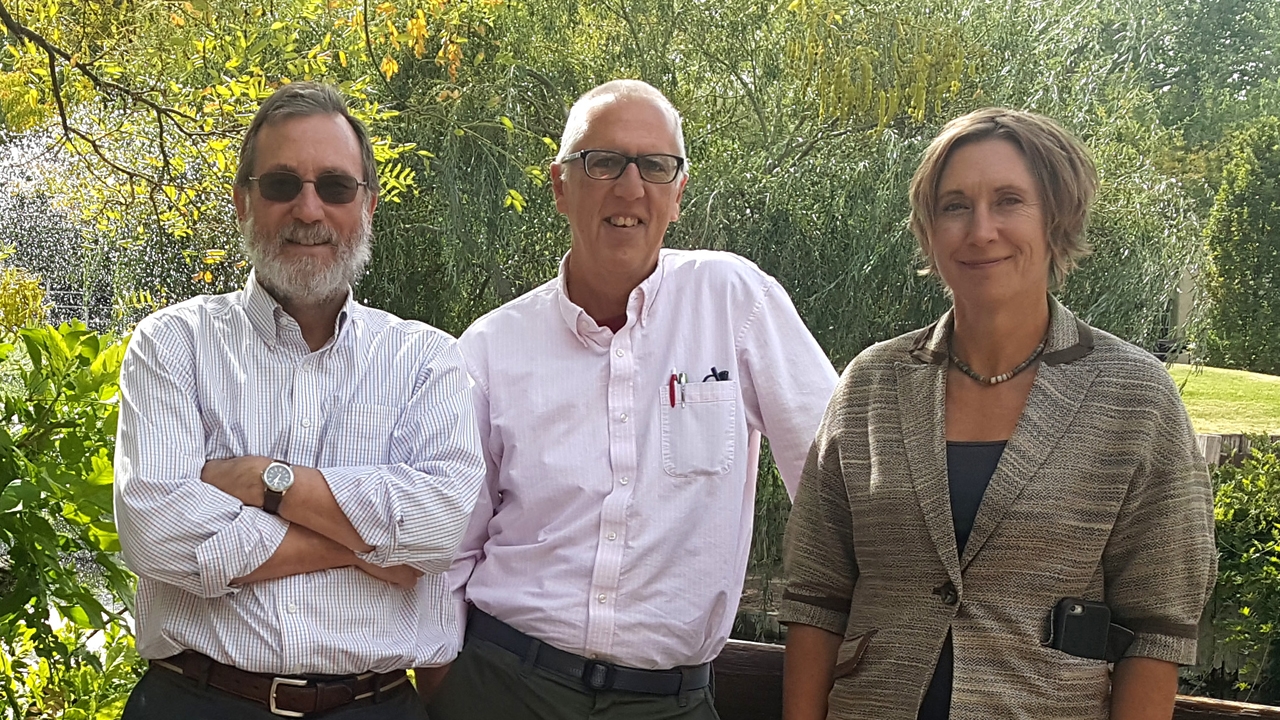 David Gutzler, John Fleck and Renia Ehrenfeucht are part of a regional consortium designed to manage climate change.

Researchers at The University of New Mexico are looking at various impacts of and adaptations to climate change as part of the South Central Climate Adaptation Science Center (CASC). Renia Ehrenfeucht, chair of the Community & Regional Planning Department at the School of Architecture + Planning, is a co-principal investigator for the UNM piece of this regional consortium that also includes the University of Oklahoma, Oklahoma State University, Texas Tech University, Louisiana State University, the Chickasaw Nation, and the Choctaw Nation of Oklahoma.
"I've been investigating how communities and households respond to interrelated environmental and economic changes, both how people mitigate change and adapt to stay in their communities, and when and where they move as an adaptation strategy," says Ehrenfeucht.
This consortium strives to bring together academic researchers, students, tribal leaders, and federal agencies with regional land and water management to provide decision makers with the science, tools, and information they need to address the impacts of a changing climate on natural and cultural resources. Joining Ehrenfeucht on the UNM team is Professor David Gutzler, climate change expert in the Department of Earth & Planetary Sciences, and John Fleck, director of the UNM Water Resources Program. UNM alumnus Maurice Cruz is also part of the consortium as the New Mexico tribal liaison.

Together with their students, the team will work to answer several interlocking questions:
1. How will climate change affect the snowmelt that feeds New Mexico's rivers?
2. How is irrigation-dependent agriculture adapting as flows in the state's rivers decline?
3. How are rural and tribal households and communities adapting to current and future climate fluctuations?
4. How does climate change affect public lands, and how can we best manage those lands to protect ecosystems and wildlife as the climate changes?
The South Central CASC is one of eight regional centers managed by the National Climate Adaptation Science Center, established in 2008 under the United States Geological Survey. The mission of the CASCs is to deliver science to help fish, wildlife, water, land, and people adapt to a changing climate, and each CASC is a collaborative arrangement between the National Center and regional universities. The science of the SC CASC focuses on five Communities of Practice formed to find solutions to the challenges presented by a variable and changing climate.

Ehrenfeucht is part of the Enhancing the Resilience of Indigenous, Rural, and Vulnerable Communities team that will focus on creating guidelines for the most vulnerable communities to survive droughts and other impacts, while Gutzler is part of the Understanding Teleconnections that Influence Ecosystem Resilience team. This team examines the connectivity of water and ecosystems in order to better inform management techniques and strategies of climate change impacts.
Having studied the changing climate for most of his career, Gutzler knows the impacts of climate change will be felt worldwide and that navigating its effects will be challenging. He emphasizes the need for New Mexico to better understand our risks, especially with our diminishing access to water and our changing landscape as the climate continues to become more arid.
"I've been studying climate change from a theoretical, scientific perspective for many years. I am eager to interact with other regional scientists and with colleagues in government to apply what we have learned to practical use," says Gutzler. "We face some very challenging times ahead in a changing climate."

Fleck finds the collaborative nature and focus on communities an important tool for the future of responses to climate change, especially with regard to how rural communities respond to dwindling groundwater supply and a lack of snowmelt to replenish rivers and streams.

"Since the turn of the 21st century, I have watched farmers' remarkable ability to adapt to shrinking supplies of irrigation water. This gives me hope about communities' resilience in the face of climate change," he says, "and I think there is much we can learn from them as we wrestle with societal response to the challenges of a changing
climate."

Cruz has seen the effects of climate change firsthand as a member of Ohkay Owingeh (San Juan Pueblo). Drier winters, hotter summers, and high risk of fire have become a norm for his community, but the people offer generations of knowledge about the land. This is true of indigenous communities throughout the Southwest, and Cruz believes the partnerships made as part of the South Central CASC are key to New Mexico's climate future.

"Indigenous peoples have a long history of adaptation throughout the US and the Southwest in particular. Many of the strategies needed to face the impacts of climate change are not new ideas," he says. "Looking forward, indigenous communities will be disproportionately affected by a changing climate. What actions can be taken now, and how can we adapt to the changes to come is really the main focus of my position at the SC-CASC."

Ehrenfeucht says students will play a big role in the UNM research, and she hopes the consortium allows her team to provide data and tools for federal agencies with responsibility and access to address these issues. "It is imperative to understand how people are responding in our arid region, and I look forward to collaborating across the consortium to develop knowledge that can help policymakers take action on these critical issues."