"Urban Composition" by Mark Childs Wins 2013 EDRA Great Places Award
June 4, 2013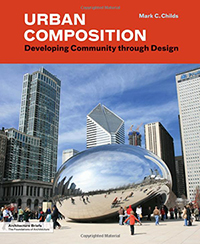 Urban Composition, by Professor Mark Childs was published this May by Princeton Architectural Press, and awarded the 2013 Environmental Design Research Association (EDRA) Great Places Award in the Place Book category. Childs was recognized at the EDRA awards banquet Saturday, June 1st at the EDRA Conference.
The book explores essential ways in which the architects, planners, artists and engineers of individual projects can fulfill their public trust to help make great urban places. Jurors wrote, that this submission " truly exem­pli­fied the con­cern for human fac­tors in the design of the built envi­ron­ments, and a com­mit­ment to pro­mot­ing the links between design research and prac­tice."
Mark Childs is the Director of the Urban and Regional Design Certificate Program and Professor of Architecture. He is also author of of Parking Spaces (McGraw-Hill 1999), Squares: A Public Places Design Guide for Urbanists (University of New Mexico Press 2004, paper 2006), and numerous articles.