CRP Students Win 2nd and 3rd place for APA NM Student Planning Project
October 23, 2020
Students in Community & Regional Planning were awarded 2nd and 3rd place in the Student Planning Project category by the APA New Mexico. The APA-NM received the most submissions on record for the 2020 Planning Awards.
The second place Student Planning Project Award was given to students in CRP 570 Indigenous Planning Sustainability Institute, led by Distinguished Professor and iD+Pi Director Ted Jojola. For the project "Menīkānaehkem - Community Rebuilders," students in the Indigenous Planning Summer Institute 2019 connected with members of Menīkānaehkem for a planning session regarding an overview of their goals, challenges, and futuristic strategies. The students led critical discussions of how Menīkānaehkem can develop planning based on their overall purpose, in relation to their available physical space. They identified specific assets and future possibilities, transforming these ideas into a seven generational thought process. Students collaborated with members of Menīkānaehkem as well as colleagues at the Sustainable Design Institute to compile an inclusive plan developed for on-site projects, including a recently acquired parcel on Koon Lake.

Outdoor Education: Connection to Water - Koon Lake, Menīkānaehkem - Community Rebuilders, CRP 570 Indigenous Planning Sustainability Institute
The third place award was given to students for their project "Santa Fe Railyard Performance Center Parcel." With Visiting Assistant Professor joni m palmer, students in CRP 330 and GES 330 used an explorative scenario approach to think creatively and provide the Gent-Foma family with unique ideas for the future life of the parcel. Currently, the parcel acts as a corridor from the parking lot on the northwestern side of the Railyard Performance Center to the main area of the Railyard along the rail line. Students envisioned the site as a place where the community and tourists can spend time relaxing, sheltering from the sun, and meandering as opposed to simply passing through.
Congratulations to all of the winners of the APA-NM Planning Awards!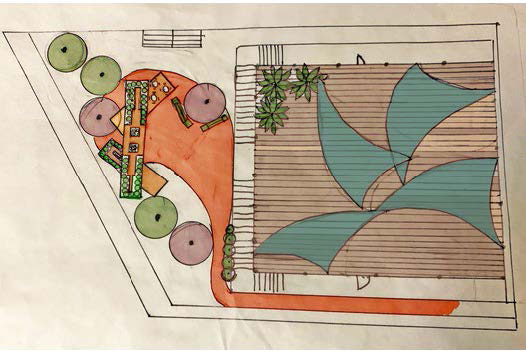 Conceptual plan view sketch of the Santa Fe Railyard Performance Center Parcel including proposed changes, by Sunday Sanchez CRP 330 and GES 330