UNM School of Architecture and Planning team wins second prize in EPA Campus Rainworks Challenge
April 30, 2018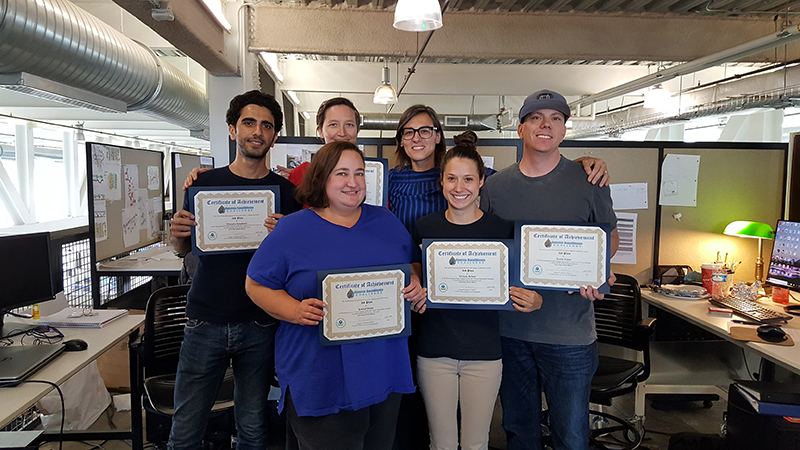 A multi-disciplinary team of students have placed second in the Demonstration Project category of the national EPA Campus Rainworks Challenge. The team was comprised of six students: Tess Houle, Viviane Beluse, Travis Tabet (Landscape Architecture); Ricardo Carbajal (Community and Regional Planning); Hossein Goudarzi (Architecture); Kristal Metro, P.E., CFM (Civil Engineering).
Each year, the EPA invites student teams to compete for either the Master Plan or Demonstration Project categories to address stormwater issues on their campuses. With the submission "Johnson Field (Re)Creation", the UNM team proposed a redesign of Johnson Field that would improve water efficiency on the field, reduce local flooding and better manage stormwater runoff while also creating a new entrance to the University from Central Avenue and providing more shade and habitat around the edge of the field. 
Kathleen Kambic, the faculty advisor noted, "The design is the result of many discussions with UNM faculty and staff and local practitioners dedicated to water issues in New Mexico.  Water is critically important here – we get so little rain, but when it comes it can cause significant flooding. Finding alternatives to integrate stormwater management into highly used areas for visibility and interactivity was our highest priority. Overall, we want to normalize green stormwater infrastructure, so more people can see the many benefits GSI can provide in arid and semi-arid landscapes. This project gave us the opportunity to push against the standards and come up with a solution that is both functional and inviting."
The students will receive $1000.00 and their advisor will receive $2000.00 in award money for their win. Eighty-seven teams in thirty states submitted entries to the competition this year. The EPA has supported this competition since 2012.
The team's video about their project can be found here: https://www.youtube.com/watch?v=lP0-kBLHmSI&feature=youtu.be
The list of winners can be found here: https://www.epa.gov/green-infrastructure/2017-campus-rainworks-challenge