A House of Glass and Contested History, on view at Central Features Contemporary Art
January 19, 2018
Central Features kicks off the 2018 season with I Listened for theEchoes of Your Voice, Nora Wendl's installation in Venture Room, the gallery's project space, about Dr. Edith Farnsworth. The installation combines photographs, text, and sound to create an experiential consideration of the contested and, arguably lacking, historical account of Farnsworth, a woman who commissioned Mies van der Rohe to build a glass house for her. A publication about Farnsworth, written by Wendl, is forthcoming.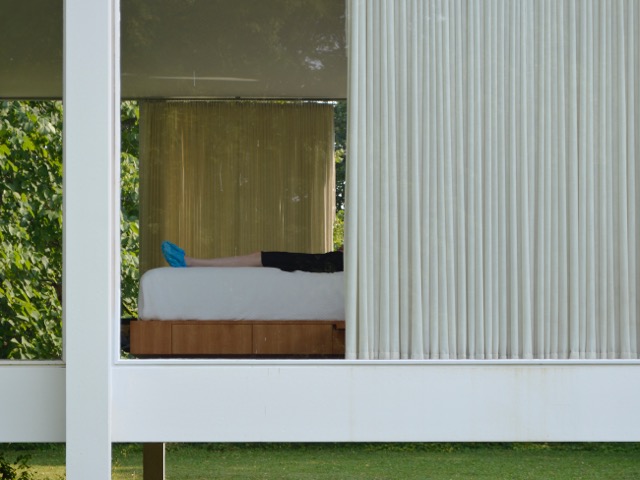 Nora Wendl, I Listened (56:11-58:23), 2017, digital print on glass
"I am thrilled to present this work in the gallery's project space. Nora's enthusiasm, curiosity, and research around Dr. Farnsworth's life is inspiring, and much needed," says Nancy Zastudil, owner/director of Central Features. "With this installation--n early stage in exhibiting some of her research--Nora is creating poignant ways for people to learn about and more deeply appreciate not only the significant role this woman played in the creation of the famed Mies van der Rohe glass house, but Dr. Farnsworth's development and identity as a creative individual. The metaphor of living in a glass house, and Nora's experience creating an 'authentic record of occupation' while spending time in that house, are complex and somewhat haunting."
The exhibition is presented in conjunction with Boundless, an exhibition of experimental, artist-made books, on view in the Central Features main gallery space January 27 through March 10, 2018. Exhibition receptions are also taking place this night in neighboring art venues Richard Levy Gallery and 516 ARTS.
WHAT: Opening reception for I Listened for the Echoes of Your Voice, Nora Wendl's installation in Venture Room, the gallery's project space, about Dr. Edith Farnsworth, and for Boundless, an exhibition of experimental artist-made books.
WHEN: Opening Reception on Saturday, January 27 from 6:00 to 8:00 p.m.; exhibitions on view through March 10.
WHERE: Central Features Contemporary Art, 514 Central Ave SW, second floor (please note: there is no elevator)
INFO, INTERVIEWS, IMAGES: Contact Nancy Zastudil, Central Features, nancy@centralfeatures.com; (cell) 575-737-8261 or (gallery) 505-252-9983
A list of upcoming exhibitions and events at Central Features can be found here.
Central Features Contemporary Art is a gallery that promotes the intrinsic value of art-making in contemporary culture, with a featured emphasis on the artist's role in
environmental stewardship and social progress. Through a rigorously curated exhibition and event program that borrows from both commercial and non-commercial practices, Central Features asks: how might art translate and transform the human condition in a relevant, discernible, and local context?
www.centralfeatures.com