See the Santa Fe home that just won a prestigious architecture award
March 18, 2017 - Allison Giron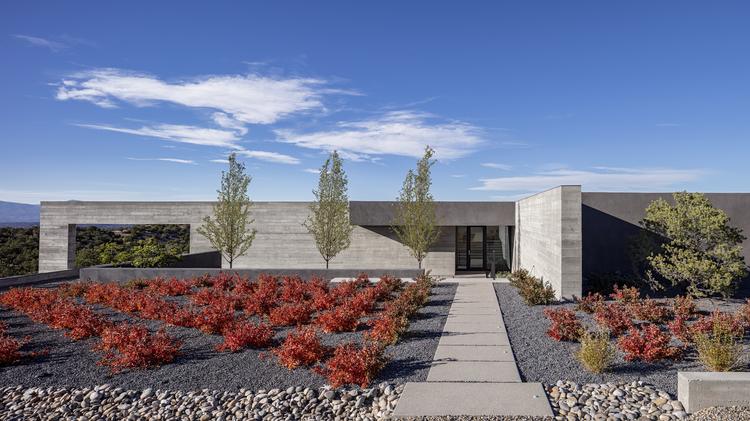 Santa Fe is home to the winner of the prestigious 2017 Jeff Harnar Award for contemporary architecture. The Sundial House in Santa Fe, chosen from projects across the state, was designed by Specht Architects.
The Thornburg Foundation created the award to honor the late Jeff Harnar, a well known New Mexican contemporary architect whose projects included Santa Fe's Jean Cocteau Cinema. "The goal of the award is to inspire the next generation of architects by highlighting recently built, outstanding contemporary architecture in New Mexico," Allan Oliver, the executive director of the foundation, said. The architecture award is also one of very few to come with prize money, according to those close to the contest — $10,000 for the winning company. The Sundial house has no traditional front or back entrance. Each side has an arrangement of glass, portals and courtyards.
The house is Specht Architects' first project in the Land of Enchantment. The firm has been designing commercial and residential buildings for 25 years and maintains offices in Austin, Texas and New York City.
"Jeff Harnar's work was dedicated to these core values: the importance of site and necessity of inventive expression," said Founder Scott Specht. "We are honored that our project has been deemed to have lived up to the high standards he set in his work."
The ridgetop house was primarily inspired by the interaction of land, environment and culture. According to Specht, the clients were looking for a place to live that functioned in a different way than the typical three-bedroom house. The work of land artists such as Donald Judd and James Turrell with their play of light on minimal form approaches, as well as Mexican modernist architect Luis Barragan, also inspired the project.
Specht declined to disclose the cost of the project.
The Harnar award was created in 2007, and the UNM School of Architecture + Planning got involved with the project in 2010, determining the award process and selection of the jury.
The Thornburg Foundation made $5.045 million in total grants in 2015, and reported $108 million in assets.
View the slideshow, here