School of Architecture and Planning Dean gives, "State of the School" address
September 8, 2016 - Carolyn Gonzales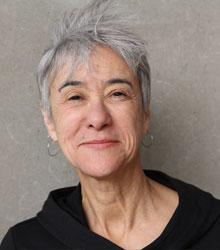 The University of New Mexico School of Architecture & Planning Dean Geraldine Forbes Isais recently made a presentation to faculty, staff and students in the school to present her "State of the School" address.
She said that The University of New Mexico is a Category 1 Research Institution Highest Research Activity, as designated by the Carnegie Classification of Institutions of Higher Education.
"This means that not only do we educate students in architecture, landscape architecture and community and regional planning, but we also develop scholarship and research to advance these disciplines and to create new knowledge," Forbes Isais said. She noted that faculty divide their time between teaching (40 percent), research and scholarship (40 percent) and the remaining 20 percent of their time is dedicated to service for the profession, city and state.
She announced four new faculty hires:
Ane Gonzalez Lara, assistant professor, architecture
Kathleen Kambic, assistant professor, landscape architecture
Jennifer Tucker, assistant professor, community and regional planning
Nora Wendl, assistant professor, architecture
More information about these four will be forthcoming.
Forbes Isais outlines the school's strategic initiatives that were established in 2014 and will continue through 2017:
Indigenous Design + Planning Institute (iD+Pi)
Health & Equity
Arid Land Design
Visualization & Innovation
iD+Pi's services to native communities in the state, region and internationally, have been highly sought in tribal areas. The institute also received the first MainStreet grant for a multi-year project taking place at Zuni Pueblo. Reaching out across the state is a challenge due to the distances between cities, towns and villages and UNM. "How we engage different parts of the state is important," Forbes Isais said.
Health & Equity is an area in which all disciplines of the school can be involved, she said. "We currently are members of the Social Determinants of Health committee that crosses from the medical campus to main campus," she said.
Designing for arid lands is relevant to life in New Mexico and the region. "We have faculty conducting research in this topic because our arid climate makes this is an appropriate place for this work to take place," Forbes Isais said.
Innovation is an area that is part of the University's overall strategic plan. In the School of Architecture & Planning, visualization is key because of the school's strong emphasis in design and the use of technology for production. An example of this is evident to people arriving at the Albuquerque International Sunport. Loboscape is a multi-faceted three-dimensional display that uses the latest visual arts technology to tell the story of UNM and its people. It was designed and developed between the school's fabrication lab, the interdisciplinary ARTs Lab and University Communication & Marketing.
Evidence of the school's reach across the state and collaboration with other entities, the School of Architecture & Planning in 2007 developed a relationship with the UNM Medical School on a project to evaluate prospective sites for a health center in Silver City. It resulted in a focused studio on the Silver City Health Clinic. Financed by the UNMH Heroes Project and a UNM Hero, Charles Alfaro, who lives and works in Silver City, another studio was established to focus on the site evaluation and medical clinic design. The result is medical offices and clinic in historic Silver City.
That's just the beginning. Looking more closely at Silver City, the school and its partners at Western New Mexico University, located in Silver City, and Woodbury University, located in Burbank and San Diego, Calif., noted:
Healthcare system compromised
Mines shutting down
WNMU and tourism key stabilizing components for Silver City and Grant county
Asset analysis of the town and region
Opportunities for design interventions
Despite the distances – 238 miles from Albuquerque to Silver City and 607 from Woodbury School of Architecture – the school remains committed to the southwest corner of the state. In a meeting with Joseph Shepard, WNMU president, faculty and administrators from the school learned that Silver City is anxious to find ways to promote the area. "They are looking for alternatives for a small town. The population has dropped to under 10,000, with two times that number in the area," Forbes Isais said.
Shepard has provided housing for the students and faculty from Woodbury and UNM. There is one year left on the current project to respond to ways downtown Silver City can be revitalized for tourism and other economic development. The challenge is a gallery with an associated Maker's Lab – in addition there is a plan to design a Mobile Maker's truck to demonstrate the possibilities to the local communities.
Now the community of Santa Clara, also in Grant County, is interested in receiving assistance to preserve and protect work their historic building. They are also interested in establishing a culinary institution in their community.
"With one more year on the grant, we will be submitting a proposal to the NEA to summarize our work in terms of subsequent engagement. Again, these are our ideas, but we need to know how to do this in a contemporary way," Forbes Isais said, adding that this is how students and faculty receive professional experience in working with communities.
"They bring that practical experience back to the classroom," she said.
To see the slides featured in the presentation that address the school's budget, enrollment and more, click here.