Upcoming Events
Please note with the quickly changing situation of COVID-19, many events are being rescheduled, postponed, or canceled. Canceled events will be announced.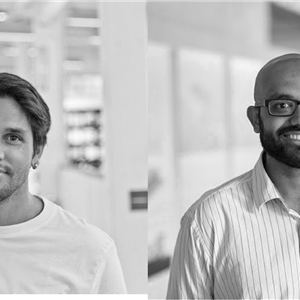 George Pearl Hall /
Featuring:
Sourav Kumar Biswas, Landscape Planner & Spatial Analyst at Sasaki Associates, Founding Member International Landscape Collaborative (ILC).
Thomas Nideroest, Landscape Architect at Sasaki Associates, Founding Member International Landscape Collaborative (ILC).
Using the 'Landscape Approach' to frame Water Resilience
Part of the SA+P Spring Lecture Series: Intersections, and a recognized 1 credit hour course in the Landscape Architecture Continuing Education program (LA CES)
Synopsis:
The era of the Anthropocene is defined by the pervasive and irreversible imprint of humanity on atmospheric, ecological, geological, and hydrological systems. While human civilization has been nourished and sustained by water, the impact of human action and climate change has led water to simultaneously become a scarce resource or a destructive agent. The ILC promotes the 'Landscape Approach' as a method to build resilience by reconciling the landscape and its socio-ecological linkages with the design of urban form, infrastructure, and territorial systems. The presentation will feature projects from Los Angeles and Chennai – two metropolitan regions with more than 10 million people growing in distinct hydrologic contexts. Thomas will present the extensive hydraulic investments that sustain urbanization in the arid southwest and their systemic vulnerabilities in the face of climate change. Sourav will present landscape-based propositions in Chennai that increase water resilience for a coastal city that faces both extreme flooding and water scarcity. These two case-studies will make the case of multi-scalar thinking, and nature-based solutions to address urban and regional water issues. The projects are featured on two publications by the ILC – 'From the South: Global Perspectives on Landscape and Territory' and 'The Sponge Handbook: Chennai'.