Ane Gonzalez Lara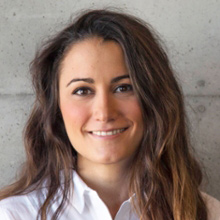 Ane Gonzalez Lara

Assistant Professor, Architecture
---
"I want my students to be very passionate about design and to show them how great architecture is. Architecture is something that I am very passionate about and I think and that is something that I would like my students to feel and to learn how great working as an architect can be."
---


Ane Gonzalez Lara is a designer with great experience in practice at a wide range of scales and project types in the US and Europe. She is currently an Assistant Professor at the School of Architecture and Planning at UNM and a partner at BAT-USA, an architecture firm based in Spain.
Ane received her Master of Architecture from the Escuela Técnica Superior de Arquitectura Universidad de Navarra (ETSAUN). Previous to working at UNM, she was an Adjunct Professor at the University of Houston and worked at SCHAUM SHIEH, assisting on the design of the White Oak Music Hall in Houston. Ane also worked at VG Studio in Houston, at ErenlerBauer in Berlin and at ACXT/IDOM in Spain.
Her research focuses on the tectonics, assembly systems and materiality of contemporary Ibero-American architecture, while also exploring the relationship between space, geometry and materiality through her practice.