Kuppu Iyengar

---
Professor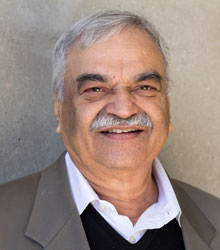 Contact Information
Office Location: Pearl Hall Rm 261
Email: kiyengar@unm.edu
Curriculum Vitae
Area(s)
Architecture
Research Areas
Architectural Structures, Sustainable Architectural Design + Environmental Controls , Energy Efficiency + Sustainability.
Biography
Professor Iyengar is an experienced highly skilled teacher and a technical consultant for the past 55 years. He combines his degrees in civil and structural engineering and architecture with a wealth of practical experience in both fields. He also brings to his students the benefits of an ongoing subspecialty in sustainable architectural design, emphasizing optimized techniques for architectural structures and design and resource responsibility.
Mr. Iyengar has served for 15 years as Associate Professor & 3 years as associate Director at UNM and 18 years as an adjunct Associate Professor at UCLA. In addition to developing academic courses of study, he has designed and presented over 50 seminars in professional settings, bringing his expertise to scores of students in academic, governmental, and commercial settings. Mr. Iyengar's expertise as a teacher derives from his substantial experience as an engineer and designer. He has held responsible positions in every phase of project planning, design, construction, construction oversight, and inspection. His international professional experience includes India, Barbados, USA, England, Canada, Australia, Philippines and Thailand.