Baker Morrow

---
Professor of Practice of Landscape Architecture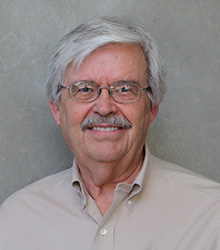 Contact Information
Office Location: Pearl Hall Rm 225
Email: bmorrow@unm.edu
Curriculum Vitae
Area(s)
Landscape Architecture
Biography
Baker H. Morrow, FASLA, has been a principal of Morrow Reardon Wilkinson Miller, Ltd., Landscape Architects for the past 36 years. Mr. Morrow is Professor of Practice of Landscape Architecture at the University of New Mexico (since 1975), where he is the founder of the MLA program in the School of Architecture and Planning.  A third-generation New Mexican, he is the author of a number of books, including Best Plants for New Mexico Gardens and Landscapes and A Dictionary of Landscape Architecture, and the coeditor of Canyon Gardens: The Ancient Pueblo Landscapes of the American Southwest. 
Professor Morrow is an award-winning landscape architect, experienced at working with stakeholders on pressing issues in both English and Spanish. He and his firm have received over 90 design awards and citations since 1980. Practicing in New Mexico and the surrounding area, he has served as project manager and principal in charge for more than 3000 projects. Among Professor Morrow's award winning projects are the Journal Center, the New Mexico State Fairgrounds entries, Park Square, Dietz Farm Plaza, Children's Psychiatric Center at UNM, St. Joseph Square, the Albuquerque Academy, and Yale Boulevard in Albuquerque. Morrow Reardon Wilkinson Miller, Ltd. has also developed plans for many other important New Mexican projects, including the Big I interchange (I-25 and I-40) in Albuquerque, Citywide Median Prototype Landscapes (30-40 miles) in Albuquerque, Sun Healthcare World Headquarters, and Alto and Siringo parks in Santa Fe. Professor Morrow is currently working on projects such as Las Soleras in Santa Fe and Salinas Pueblo Missions National Monument, Martineztown Park in Downtown Albuquerque, and the redesign of downtown Eunice and Artesia, NM.
Professor Morrow was elected a Fellow of the American Society of Landscape Architects in 2001.