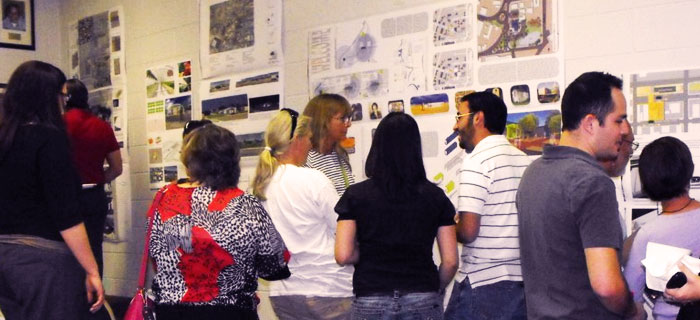 Urban and Regional Design Admissions
As of 3/1/15 we will not consider new applications to the Certificate while we revise the program. We anticipate accepting applications again in spring 2016.
Qualifications
Students must be either:
Currently enrolled as a graduate student in Architecture, Landscape, or Community and Regional Planning at UNM with a minimum GPA of 3.0. We prefer to admit graduate students after they have completed at least one semester of their graduate program.

In possession of a professional degree in architecture, planning, or landscape architecture; or

Are graduate students currently enrolled in other programs, or design professionals without one of the degrees listed above may be admitted by the Certificate Coordinator upon demonstration of adequate preparation, skills, and aptitude.
Students who are not currently enrolled as graduate students at the University of New Mexico must apply to and be accepted by the University graduate program. Apply Now > 
Application Submission Requirements
A resume
A statement of intent outlining your goals in pursuing the Certificate
Proposed program of study (http://ogs.unm.edu/resources/gs-forms/documents/pos-masters.pdf),
If you are currently in a graduate program please include an application to add a certificate. 
A brief graphic portfolio of design and planning work. Include

no more than

ten 8.5x11" pages.
Samples of original written work. Include

no more than

five 8.5x11" pages.
A current academic transcript
Names and contact information for two people who can speak to your qualifications for the certificate program.
These materials should demonstrate (1) serious initial investigation of urban and regional design issues in prior work, (2) strong design and/or planning skills, (3) strong craftsmanship and care for the context and external consequences of design and planning work, (4) ability to write cogently, and (5) a clear and compelling set of goals. The coordinator for the graduate certificate may waive any of the above requirements if the application as a whole demonstrates that the student has the skills, background, and ability to successfully complete the Certificate.

Students who have strong applications but whose skills in a particular area need development may be asked in the admission letter to add course(s) to their studies (e.g. We may require an additional graphic or writing skills course).
Deadlines
Submit your application the front office of School or Architecture and Planning by
March 1
for fall term admission, or
November 1
for spring term admission.
Please submit all materials to:
School of Architecture and Planning
Attn: Beth Rowe, Graduate Advisor
MSC04 2530
1 University of New Mexico
Albuquerque, NM 87131-0001