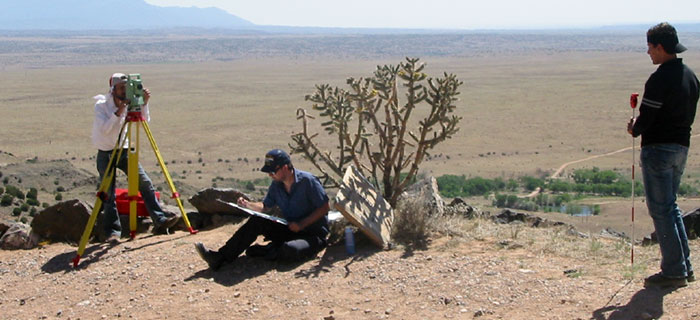 Scholarships + Fellows
New Mexico Heritage Scholarships
Four to six Scholarships of up to $5,000 each are awarded annually to students in the Graduate Certificate Program in Historic Preservation and Regionalism. Scholarships are open to those applying to or already enrolled in the certificate program. Students awarded this scholarship receive a prorated amount at the time of taking each course toward the certificate. Courses previously taken or currently enrolled in toward the certificate do not qualify.

Application deadlines for the scholarships are

March 1 and November 1

. Email inquiries to 

Monique Rubio

 about current availability before applying.
George Pearl Fellowships in Preservation and Regionalism
Architect George Clayton Pearl (1923-2003) may have been the most committed to regionally-responsive design and to historic preservation of his 1950's generation of modernist-trained architects. As the primary designer for of the lending New Mexico firm of Stevens, Mallory, Pearl and Campbell (now SMPC), he designed an estimated 1,550 buildings, likely more than anyone else in the history of the state. He also was a founding member or stalwart of every Albuquerque, New Mexico and national preservation group beginning with the stirrings of the grass roots preservation movement in the late 1950's.In the 1990's, he established the George Pearl Endowment, augmented by a generous bequest at the time of his death, which provides substantial support to the courses and programs of the Historic Preservation and Regionalism Program. The university recognized his many contributions to the state by naming the new home of the School of Architecture and Planning, and of the Fine Arts and Design Library, George Pearl Hall, and also by creating the Pearl Reading Room in the library. Two separate George Pearl Fellowships were established in 2004 with matching funds from the NM state legislature. Pearl Fellows are selected from distinguished professionals and educators in preservation, landscape architecture, planning, and architecture—typically one from New Mexico, and another from outside the state. In addition to presenting a public lecture, the Fellow also typically contributes to the intellectual life of the school through a short course, design workshop, or other program:
2006: Chester Liebs, educator and preservationist, Santa Fe, N.M.
Stefanos Polyzoides, architect and urbanist, Pasadena, California 
2007: Beverly Spears, architect and landscape architect, Santa Fe, N.M.
Kak Slick, historic preservationist, Santa Fe, N.M. 
2008: Douglas Kelbaugh, architect and urbanist, University of Michigan
Arnold Valdez, preservation planner, Santa Fe, N.M. 
2009: Yukio Nishimura, urban conservation planning, Tokyo University 
2010: Stephen Mouzon, architect, urbanist, and photographer, Miami 
2011: Kim Sorvig, landscape architect, Santa Fe 
2012: Ellen Dunham-Jones, architect, Georgia Institute of Technology
June Williamson, architect, The City College of New York/CUNY
Christine Ten Eyck, landscape architect, Austin, Texas 
2014:Andrew Sandoval-Strausz, University of New Mexico, Albuquerque and
Nancy Haekyung Kwak, University of California San Diego for the organization of the Transnational Cities: Past into Present Conference.
Nancy Meem Wirth, Historic Preservationist, Santa Fe, N.M.
2015: Martin Stupich, Photographer, Albuquerque, N.M.
Frédéric Pousin, Centre Nacional de la Recherche Scientifique, Paris, and
Chris Wilson, University of New Mexico, Albuquerque, for the organization of the PhotoPaysage / Landscape Representation Conference
Annual J.B. Jackson Lecture
The cultural landscape historian and theorist J. B. Jackson (1909-1996), who lived for nearly fifty years in and near Santa Fe, had a long relationship with the UNM School of Architecture and Planning (SA&P) as guest lecturer and occasional instructor. Through his magazine, Landscape, in the 1950's and 60's; his subsequent books of essays; lectures around the country; and teaching at Berkeley and Harvard, he catalyzed the rise of cultural landscape studies in the United States.At the time of his death, he left a substantial bequest to the SA•P. The J. B. Jackson Endowment supports student field study and improved course offerings (especially in the Landscape Architecture program). In addition, the school has chosen to honor his generosity and the example of his intellectual work by establishing the J. B. Jackson Chair of Cultural Landscape Studies, the Jackson Reading Room in the UNM Fine Arts and Design Library, and an annual J. B. Jackson Lecture each spring. The lecture also honors individuals who have made significant contributions to cultural landscape studies:
2001: Chris Wilson, New Regional Initiative for New Mexico 
2002: Henry Glassie, Landscape and Life: Lessons from Tradition 
2003: Elizabeth Barlow Rogers, Rebuilding Central Park 
2004: Dolores Hayden, A Field Guide to Sprawl 
2005: Paul Groth, Making Modernity: Bungalow Neighborhoods in the American West 
2006: Setha Low, The Architecture of Fear: Gated Communities in America 
2007: Daniel Arreola, The Picture Postcard Mexican Housescape: Visual Culture and Domestic Identity 
2008: Kenneth Helphand, Defiant Gardens 
2009: Helen Lefkowitz Horowitz, J. B. Jackson and "The West Cure" 
2010: Marc Treib, Noguchi's Landscapes: The Garden as Sculpture 
2012: William deBuys, Hotter and Drier: Living the Life of the 21st Century Southwest 
2013: Stanley Crawford, Leaves and Asphalt: Reading the Landscape
2014: Dorothée C. Imbert, Food and the City: Putting Today's Urban Agriculture Renaissance in Historic Preservative