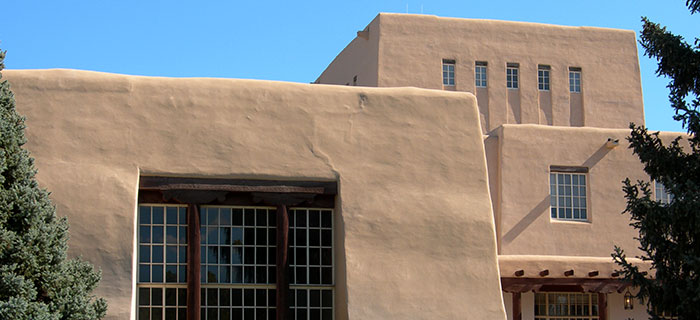 Historic Preservation Courses
Course requirements include:
Introduction to Preservation and Regionalism (LA/ARCH/CRP 591, 3 credit hours): introduces the approaches and issues of the program 

Three Elective Courses chosen in consultation with the HPR program director from the list below (9 credit hours): allows students to gain expertise in the practice of preservation and regionalism in their professional field, and knowledge of Southwest and U.S. architecture,planning and landscape history 

Historic Community Research (LA/ARCH/CRP 590, 3 credit hours): an interdisciplinary-team-based field research seminar. Introduces a wide range of methods for studying the built environment and how this feeds into preservation planning and scholarship, and how this analysis can inform contemporary design and planning. 

A Capstone Project, those completing the certificate in conjunction with a graduate degree at UNM are encouraged to fulfill this requirement by incorporating preservation and/or regionalism perspectives into their thesis, dissertation or professional project. Those completing the certificate independently normally complete a three hours problems course—either a professional internship or a substantial research project. (A student who satisfies this final requirement with a 6-hour studio, thesis or professional project will total 21 hours for the certificate.)
Elective Courses:
Preservation Technologies and Adaptive Reuse (Arch 662) 
Cultural Landscape Planning (LA 512) 
Preservation, Tourism, and Community Development (CRP 570) 
Alternative Construction Methods and Materials (Arch 662) 
Gardens in the Sand: New Mexico's Historic Landscapes (LA 512) 
Southwest Architecture and Cultural Landscapes (Arch 581) 
Preservation Law (CRP 570) 
Photography and the Built Environment (Arch 662) 
Contemporary Design in Historic and Regional Context (Arch 662) 
Infill Urbanism (Arch 662) 
Assessment and Preservation Planning for Adobe Buildings (ARCH 662) 
Urban Design Theory (CRP 525) 
Planning Issues of Native American Reservations (CRP 573) 
Planning Issues in Chicano Communities (CRP 586) 
Museum Practices (Anthro 582, Art 507) 
Intercultural Field Research (C&J 573)
Special Southwest Summer Institute courses sponsored by the HPR program
Other courses with appropriate content as approved by the HPR Director
Note: Students select their electives in consultation with, and with the approval of, the HPR Program Director to insure that at least one elective course gives an overview of the history of design and planning in the Southwest or U.S., including vernacular and regional traditions, and that at least one (and in most cases, two) of the electives chosen introduce the student to the professional techniques, practices and issues that will best prepare them for their desired career direction.