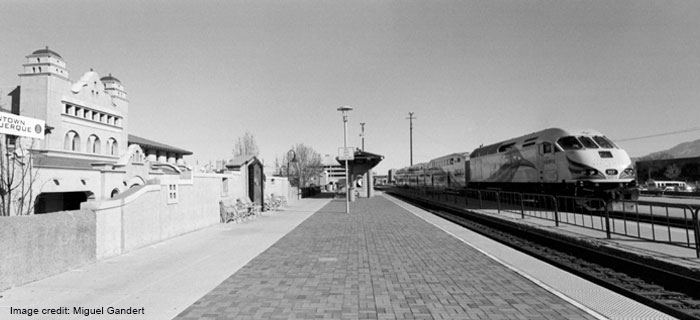 Community-Based Learning
Class field trips, applied case studies, and community-based projects that directly engage the rich history and cultures of the American Southwest are integral to the HPR program. Faculty and students study and document aspects of New Mexico communities, such as historic plazas and courthouse squares, and historic and revitalizing pedestrian neighborhoods. Then we work directly with local communities on preservation and economic development plans that cultivate heritage for quality of life, local identity and tourism development. Concepts and techniques learned in these programs are directly applicable in any neighborhood, city, region or nation of the world.
The student research in the required course in Historic Research Methods contributed to the book, The Plazas of New Mexico. This current research of this seminar is the study of the early suburban neighborhood pedestrian nodes of the mid-20th century, and their revival and adaptability as more sustainable, mixed use, transit and pedestrian oriented neighborhoods.
Research Professors Angelyn Bass and Douglas Porter periodically hire student assistants to work with them on their contracts and grants for physical preservation projects at such sites as Bandelier National Monument, NM, and the Tumacácori Masson. AZ.
The Program also encourages and subsidizes student attendance at professional conferences such as the annual meeting of the New Mexico Heritage Preservation Alliance, and the National Trust for Historic Preservation.
These are some of our past research, field survey and community based projects: