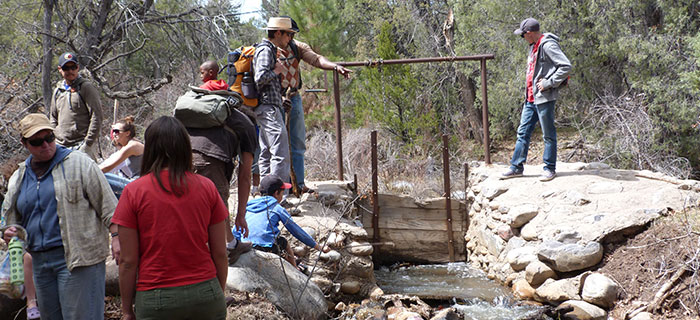 Community and Regional Planning Admissions
About
The Bachelor of Arts in Environmental Planning & Design (BAEPD) at the School of Architecture and Planning (SA•P), University of New Mexico, is an undergraduate course of study in the Community and Regional Planning (CRP) Program.  Students admitted to the University of New Mexico and interested in studying environmental planning and design are automatically considered BAEPD majors if they schedule an appointment with the School of Architecture & Planning Undergraduate Advisor and complete a SA+P major enrollment form.  The SA+P Undergraduate Advisor's office is located in George Pearl Hall, room #117.
If you currently are not a UNM student, you must first apply for UNM undergraduate admission at: http://www.unm.edu/apply
Contact
School of Architecture and Planning Undergraduate Advisor
Angela Pacheco
delong@unm.edu
Bachelor of Arts in Environmental Planning and Design (BAEPD) Faculty Advisor
Bill Fleming
fleming@unm.edu
About
The MCRP degree program is a two-year course of study designed to allow students to pursue a concentration consistent with their professional objectives.  Three concentrations are offered: Community Development, Natural Resources and Environmental Planning, and Physical Planning and Design. The completion of a concentration allows students to match academic interests with potential employment opportunities.
Applications
The application deadline for Fall admission is January 15. All materials must be received by 5PM on that date. Applications received after January 15 and before April 1 will be considered in a second round of admissions held before April 15, on a space available basis. Spring admissions will be considered for special circumstances only (contact graduate advisor). Applications are not considered for the summer term. Prospective applicants should consult the Graduate Program section of the Catalog to review current policies and guidelines.
Our online application will allow you to upload all your necessary documents for application to the program of your interest. Within the application, make sure to click the Application Instructions to see program specific requirements.
Application $70 Admission fee
Letter of Intent
Three Letters of Recommendation (one must be from an academic source, i.e. professor or advisor)
Curriculum Vitae (Resume)
Official transcripts from all higher education institutions attended (This will be submitted to the UNM Office of Admissions)
Unofficial Transcripts (To be uploaded to the online application)
International Students also need to submit the following:
An attested copy of your diploma
Official TOEFL scores that must meet the University of New Mexico minimum of 79 on the IBT TOEFL
Materials are evaluated based on the criteria below:
Strength of the Letter of Intent based on the following
Quality as a writing sample: A clear statement of applicant's academic and professional trajectory.
Recent personal growth and potential: Evidence of applicant's personal growth and potential (this is a more subjective criterion, but is based in our desire for students who are committed and motivated, who have already begun their intellectual development and who have real potential to continue that development in this program, and beyond as a planning professional).
Fit with CRP program: The fit of applicant's interests and background with CRP program (in terms of our community-based philosophy and community focus, natural resources, physical planning and/or community development content emphases, and our concern with issues of equity and social justice).
Relevancy of applicant's experience and background: In terms of professional or volunteer experience in some aspect of community based planning; community and regional planning content in the applicant's experiences.
Demonstrated capacity to do high quality graduate study
The applicant's transcripts will be evaluated for strong grade point average in relevant undergraduate course work.
Strength of letters of recommendation
In terms of applicant's seriousness and capability as a student and as a future professional.
Contact
For questions about the MCRP admissions process, please contact Beth Rowe, SA•P Graduate Advisor: (505) 277-1303, erowe@unm.edu.
CRP Program Mailing Address:
Community + Regional Planning Program
ATTN:  Graduate Advisor
MSC04 2530
1 University of New Mexico
Albuquerque, NM 87131-0001
Admissions Decisions
The Admissions Committee reviews, discusses, and ranks all applications,identifying the degree to which each meets the criteria and satisfies the academic prerequisites. Applicants then are notified whether they are:
Admitted
Conditionally admitted pending receipt of formal contents of the application
Placed on the waiting list for admission should a space open up
Not Admitted
Those who do not gain admission are encouraged to contact the CRP Director for an explanation and to assess the feasibility of a successful reapplication.