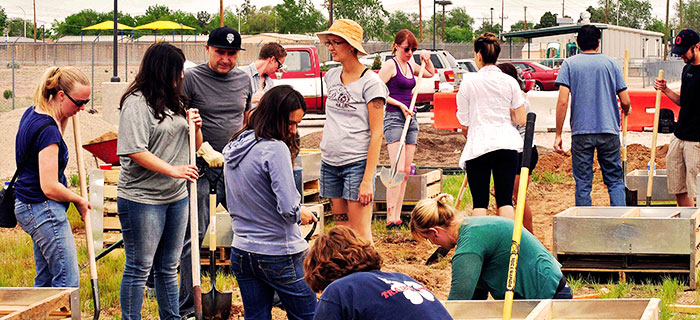 Undergraduate Degree
Bachelor of Arts in Environmental Planning and Design (BAEPD)
The Bachelor of Arts in Environmental Planning & Design (BAEPD) at the School of Architecture and Planning (SA•P), University of New Mexico, is an undergraduate course of study in the Community and Regional Planning (CRP) Program. Environmental design draws upon planning to integrate human needs and natural systems. In the American Southwest, human strategies for adapting to arid conditions have been evolving for thousands of years. They represent many different cultural perspectives, complex social histories, and rich practical learning that are vital for current and future survival. The BAEPD at the University of New Mexico is an opportunity to engage in socially and environmentally relevant skill-building,and to address the issues of an evolving social and cultural landscape.
Environmental planning and design is a systematic, creative way to influence and respond to dynamic changes occurring in neighborhoods, cities, and entire regions, throughout the world. Planners assist communities to formulate policies and plans to meet their social, economic, environmental, cultural and physical needs.
For the full BAEPD curriculum and application instructions, click here. 
Undergraduate Minor
The program offers an undergraduate minor in Community & Regional Planning. The interdisciplinary nature of CRP can supplement the learning experience of undergraduate students in several units on campus, including Applied Anthropology, Sociology, Conservation Biology, Political Science, Latin American Studies, Environmental History, American Studies, Water Resources, Economics, etc. Students in the CRP minor will enhance their ability to engage with planning issues from a community based perspective.
Application for a Minor in Community & Regional Planning
BAEPD and Undergraduate Minor curriculum